Trick Questions from an Insurance Adjuster Could Damage Your Car Accident Claim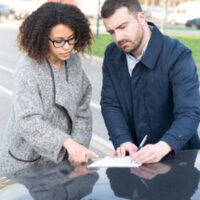 As a motorist, you are aware that there are certain auto insurance requirements established by the California Department of Motor Vehicles and noncompliance can lead to serious penalties. At minimum, you must have $15,000 in coverage for personal injury or death to one person, $30,000 for casualties to more than one person, and $5,000 for property damage. What you may not realize is the legal process behind the insurance laws if you are involved in a crash. To recover compensation from the at-fault driver, you must file a claim and deal with an insurance adjuster. It is this person's job to review your claim, investigate, and either pay or deny it.
However, it is also the adjuster's job to protect the insurance company's bottom line. In doing so, these employees will often use deception to get information from your – details that harm your interests. Therefore, your first priority after a crash should be retaining an Oakland car accident lawyer who will advocate on your behalf. If you are contacted by the insurer before you obtain representation, here are a few trick questions you should avoid answering.
How did the accident happen? Insurance adjusters know that they have solid grounds to deny payment if you admit fault when describing how the crash occurred; even if you are just partly responsible, your compensation reduced. Never provide information on the causes and underlying factors to anyone except your lawyer. 
What injuries did you suffer in the auto crash? The insurer's employee might ask you this question to get an idea of the severity of your injuries, since this aspect of your claim could make a up a substantial portion of your payment. You should allow your medical records to speak for themselves in describing your bodily harm, treatment, and the recovery process.
Do you mind if I record this conversation? Make no mistake that the answer is always NO – even if the insurance adjuster tells you that it is necessary for quality control or training. You should never agree to have your conversation be recorded, so politely decline. You should not be providing any information anyway, since your statements could harm your interests. Once your words are captured, they can do even more damage. 
Would you sign a release? This question will typically come after the insurer's employee makes an offer to settle your claim. By signing a release, you give up all legal remedies and cannot seek additional amounts. 
Did you retain an attorney for your vehicle collision claim? The best advice is to obtain a lawyer right away, so you can honestly answer YES. If you have not, you can deflect the question by stating that you are in the process of talking to potential candidates.
Trust an Oakland Car Accident Attorney to Answer the Adjuster's Questions 
Instead of putting your rights at risk, allow our Oakland car accident attorneys at Venardi Zurada, LLP to handle conversations with the insurance company. To learn how we can help, please contact our offices to schedule a free consultation.
https://www.vzlawfirm.com/8-danger-zones-and-the-risks-of-teen-driver-accidents-in-california/