California Car Accident Caught on Video After Tire Blowout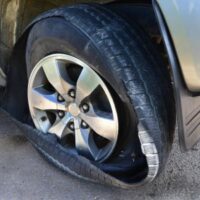 The video captured by a vehicle dash cam looks like something out of an action movie, but this tire blowout accident that launched a car several feet into the air actually happened in California. KTLA News Channel 5 covered the story, in which a tire malfunction occurred just as a pickup truck changed lanes. The tire flew off the truck and into oncoming traffic, at which point a Kia struck it. The impact caused the Kia to shoot upwards, spinning midair before crashing back onto the highway. As the vehicle rolled onto its hood and back upright, the same tire rolled back to smash into the Kia.
Amazingly, no one was hurt in the incident. However, not everyone is so lucky when involved in an auto crash caused by a tire blowout or malfunction. The explosion of a tire often leads the driver to lose control, even when the rubber does not fly off the wheel. You may have legal remedies if you were hurt, and an Oakland car accidents lawyer can provide details.
Negligence in California Auto Crash Claims: The basis for any traffic collision case is negligence, a legal theory of liability. To recover compensation, you must prove:
The other motorist owed you a duty to drive safely and not create a risk of accidents.
That person breached this duty by not exercising proper care while behind the wheel.
The breach of duty was the direct cause of the crash, such that the collision would not have happened but for the breach.
You sustained physical, financial, and emotional losses because of the accident. 
How a Tire Blowout is Negligence: It is easy to see how speeding, running red lights, and drunk driving would be considered negligence, but tire malfunctions are slightly different. The focus is on the driver's negligent acts in operating an unsafe vehicle. If your steering or brakes do not work, it would be negligent to drive your vehicle. For purposes of tire blowouts, a person may be negligent by:
Failing to ensure tires are inflated to proper levels;
Not replacing old, worn tires that lack sufficient tread depth; or
Driving a vehicle that issues warnings about tire safety, such as "Low Tire Pressure." 
Tire Recalls: You may learn about defective tire recalls through manufacturer announcements or the federal government, which attempt to prevent tire blowout accidents before they happen. There are two considerations to note in such a situation:
A manufacturer could be held accountable for an accident caused by a defective tire, under the theory of product liability.
A driver who fails to take action on a recall could still be negligent in causing the crash because he or she knew about the defective tires, breaching the duty of care. 
Contact an Oakland Car Accidents Attorney for Details About Your Rights
For more information about your options after an auto collision, please contact Venardi Zurada, LLP. We can schedule a no-cost consultation at our offices in Oakland or Walnut Creek, CA. After reviewing your case, a traffic crash lawyer can explain how the laws work.
Source:
ktla.com/news/local-news/loose-tire-launches-car-into-midair-spin-on-118-freeway-in-chatsworth-video/