Tips Parents Can Use To Protect Children From California ATV Accidents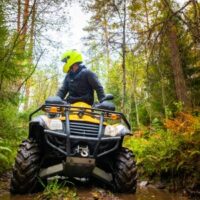 It may not be what you want to hear when your child is begging to go off-roading, but statistics on ATV accidents are as disturbing as you might expect. According to the Consumer Product Safety Commission (CPSC), California ranks in the Top 4 among all US states when it comes to deadly collisions on three- and four-wheelers. There are almost 750 people killed in ATV crashes in the state every year, comprising 5 percent of all deaths linked to offroad vehicles. However, an additional figure will send chills up the spine of any parent: 21 percent of all fatalities involve kids under the age of 16 and, among these, 44 percent of deaths are children less than 12 years old.
As a parent, you know ATVs are not toys. This can be a difficult point to get through to young people, however, so you can probably use a few tips for keeping children safe. You reduce the risk of fatal or injury-causing Oakland ATV accidents when you stress these points.
Always Wear a Helmet 
It is one of the most basic pieces of safety gear and the most effective way to prevent serious head injuries, so make sure your child dons a properly-sized helmet at all times. Tell kids exactly what will happen for breaking the rules, and impose penalties that will motivate compliance. 
Consider Other Clothing for Safety 
Aside from helmets, make sure your child is dressed appropriately when riding an ATV. Loose clothing is extremely dangerous, as fabric can become caught and lead to serious accidents. In addition, parents should require children to wear:
Long pants instead of shorts;
Closed-toe footwear, not flip-flops or sandals; and
Clothing with reflective tape of fabrics to enhance visibility. 
Stay Off Paved Roads 
ATVs are meant to be operated off-road, and it is illegal to drive one on highways and paved roads in California. The tires of a three- or four-wheeler are meant to grip softer surfaces, so they are prone to ATV rollover accidents when coming into contact with asphalt or concrete. 
Require a Safety Course 
Make it a condition that your child takes a safety course, either online or in-person through California's Office of Off-Highway Motor Vehicle Recreation – even before he or she climbs aboard an ATV. The laws actually require that riders under age 18 have a safety certificate showing completion of the course, if operating an ATV on public lands. Plus, children under 14 years old must be supervised by an adult on public property.
No Speeding 
State law prohibits operating an ATV at speeds that are unreasonable or dangerous, though there is no specific limit. When speed poses a risk to the operator, other people, property, or animals, it is too fast.
Set Up a Consultation with an Oakland ATV Accident Attorney 
These safety tips can reduce the risk of ATV accidents, but it is reassuring to know that you have legal options if you or your child was hurt. To learn more about your remedies, please contact Venardi Zurada, LLP to schedule a free case review at our offices in Oakland or Walnut Creek, CA.
Source:
cpsc.gov/s3fs-public/2018AnnualReportofATVRelatedDeathsandInjuries.pdf?VGaf1cuZ_D0SGxct2eRpZUwcgME4LKDy#:~:text=children%20younger%20than%2016%20years,%2Drelated%20fatalities%20(15%2C744).&text=ATV%2Drelated%20fatalities%2C%2065%20(,than%2016%20years%20of%20age.