Tips for Choosing the Best ATV Helmet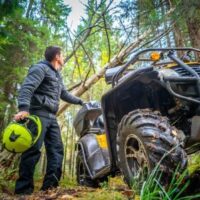 Riding ATVs is a popular activity in California because of the wide range of terrain, year-round great weather, and excellent scenery. As an ATV enthusiast, you are probably well-aware of California helmet laws for ATVs. They require operators to wear a helmet at all times while riding an ATV on public lands and roads. Plus, there are other reasons besides legal compliance to put on protective head gear. Helmets are the best way to protect your skull and brain in the event of an accident, no matter where it occurs.
When you enjoy riding ATVs often, you come to realize that not all helmets are the same. The one that works for motorcycling, biking, hiking, or other extreme sports may not be suitable for your off-road activities. Choosing the right model offers the best protection against Oakland ATV accidents, so consider the following tips as you research helmets.
 Safety Certification: A critical factor when looking at ATV helmets is the certification, and the US Department of Transportation establishes minimum standards. However, when it comes to your head, you probably want more than the minimum. Therefore, try checking the helmet's certification through the Snell Memorial Foundation, which issues the highest standards above those set by the government.
 Fit and Comfort: You will not enjoy your ride if it does not fit your head properly, and a poor fit can even increase the potential for accidents. When you are constantly adjusting your helmet, you cannot focus on safely operating your ATV. Your helmet should be loose enough to fit easily, but it should not twist or rotate during use.
 Eye and Face Protection: Much of your riding will likely be on trails, private property, and public parks where allowed. The conditions are rustic, which is exactly the appeal for many ATV riders. Your helmet should protect you from branches, dust, dirt, and other debris, so a full-face helmet with chin guard is a good choice.
Ventilation: When you do opt for a full-face helmet or a model with a flip-down face guard, it is essential that you review how well it is ventilated. Weather conditions and physical activity will make you hot, making your helmet unbearable if it does not offer sufficient air flow.
 Weight: The weight of the ATV helmet is important because of how it affects your neck fatigue. Your muscles get tired, and you may not notice that it affects how you operate an offroad vehicle. You may not turn your neck as far to check for hazards, so you cannot react to a threat.
Consult with an Oakland ATV Accident Attorney About Your Rights
A well-fitted helmet is the best protection for your head in an ATV crash, so these tips should be helpful. If you were injured in an accident, please contact Venardi Zurada, LLP to speak to a member of our team. We are happy to set up a no-cost consultation at our offices in Oakland or Walnut Creek, CA. After reviewing your circumstances, an ATV accident lawyer can advise you on options.
Source:
ohv.parks.ca.gov/?page_id=26952#:~:text=In%20California%2C%20there%20are%20laws,an%20ATV%20on%20public%20lands