How Safety Courses Help Reduce Deadly ATV Accidents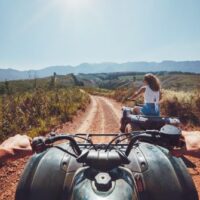 Initially, you should be aware of the legal reasons to take an ATV safety course. Under California law, there are laws that apply to those under 18 years old, as well as additional restrictions for those under age 14. An ATV Safety Certificate and direct parental supervision are required, so you may be considering these courses if you fall within these age categories or are the parent of someone who does. The California State Parks' Off-Highway Motor Vehicle Recreation (OHMVR) offers ATV safety training at several locations throughout the state, with two in Rancho Cordova and Tracy being closest to the Bay Area.
The laws do not require an adult to obtain an ATV Safety Certificate, so the legal reasons may not be a factor. However, when a course has "safety" in the title, it is worthwhile to consider the benefits of taking one. There are powerful lessons that put you in a position to prevent or reduce the chance of being hurt in an Oakland ATV accident, and a few advantages include:
You will walk away with knowledge of the laws. One purpose of the ATV safety courses is to inform you about the different statutes and rules about riding. For one, you should always keep in mind that you are required to comply with traffic laws whenever on public roads. This may not occur all that often, since riding an ATV on the street is unlawful unless crossing or in limited circumstances. Also, keep in mind that there may be county and municipal regulations on off-road vehicles.
 You learn about the ATV itself. Whether a 3-wheeler, 4-wheeler, or side-by-side, these vehicles are very unique in their balance, stability, and ease of handling. A safety course teaches you about safety in maneuvering, ATV equipment, and features that protect your safety. You will also learn about basic operations like accelerating, shifting gears, braking, steering, and other functions.
 You gain useful experience handling the ATV. As part of the safety course, you will operate an off-highway vehicle and get time in various riding environments. The training gives you practice navigating the ATV, which translates into valuable experience.
 Riders learn helpful safety tips. Your instructor will go over many tips, checklists, and guidelines, and a few key pointers serve as a good reminder about ATV safety:
Always wear an approved helmet suited to your age and size, and which includes eye protection.
Do not take passengers on or tow anything behind an ATV not intended for these purposes.
Never ride an off-highway vehicle while under the influence of alcohol or drugs.
Make sure the ATV you ride is appropriate for your age, height, and weight, according to the manufacturer's instructions.
Schedule a Consultation with an Oakland ATV Accident Attorney Today
For more information on your rights and legal remedies after an ATV collision, please contact Venardi Zurada, LLP. We can set up a no-cost case evaluation at our offices in Oakland, or Walnut Creek, CA. After discussing details, a California ATV accident lawyer can explain next steps.
Source:
ohv.parks.ca.gov/?page_id=25676