How Vehicle Speed Affects Injuries In Oakland Pedestrian Accidents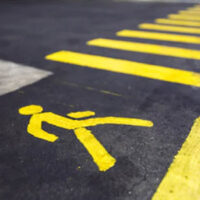 There can be no doubt that California's Bay Area is very easy to get around by walking, with the BART and a well-connected public transportation system linking San Francisco and numerous communities throughout the region. Oakland's tally of 74 on Walk Score is proof that commuting and most personal errands can be accomplished on foot, though there are many of the same dangers you might expect. Pedestrian accidents remain a threat despite reduced speed limits, creating pedestrian corridors, providing pedestrian warning devices, and adjusting traffic controls in the areas where motorists come within close vicinity with walkers.
What you might not realize is how motorist speed can vastly increase the severity of injuries when a person on foot is struck by a fast-moving vehicle. Serious, catastrophic injuries are the likely outcome, which is why it is essential to consult with an Oakland pedestrian accident attorney if you were hurt.
Driver Speed and Severity of Pedestrian Injuries 
Many safety organizations have studied the effects of speed at impact, and how the violent force relates to how seriously the victim on foot is injured. Researchers at AAA presented their results in terms of percentages:
A pedestrian has a 10 percent chance of suffering severe trauma when the vehicle strikes at a speed of 16 mph.
When the impact speed is 23 mph, the walker faces a 25 percent risk of being seriously injured.
The person on foot has a 25 percent chance of being fatally injured when the motorized vehicle is traveling at a speed of 32 mph.
If a pedestrian is struck by an auto traveling 58 mph, there is a 90 percent change that he or she will be killed. 
Other Liability Factors in the Legal Process 
Pedestrian accidents work the same as other personal injury incidents in that they are based upon the legal concept of negligence. To recover compensation, you need to prove that you were hurt in an accident that was directly caused by the motorist's unsafe driving. Speeding is solid evidence of negligence, but the above information demonstrates that you could still be severely hurt at impact speeds under 30 mph. You might also need proof that the driver breached the legal duty of care by:
Driving while under the influence of drugs or alcohol;
Running a red light or stop sign;
Failure to yield right of way to a pedestrian in a crosswalk;
Texting, talking on the phone, or illegal cell phone use; and
Other types of distracted driving, such as eating, interacting with a GPS, and playing music.
Our Oakland Pedestrian Accident Lawyers Can Explain Your Rights 
Despite your best safety efforts while walking, you cannot always avoid being involved in a collision when motorists are speeding or engaged in other negligent misconduct. If you were hurt as a pedestrian, please contact Venardi Zurada, LLP to schedule a free consultation at our offices in Oakland or Walnut Creek, CA. We can advise you on your options after reviewing your specific circumstances.
Resource:
walkscore.com/CA/Oakland