Can The Person On Foot Be At Fault In A California Pedestrian Accident?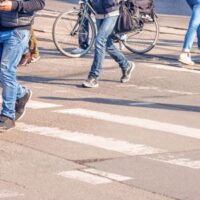 Pedestrian accidents may make up just a small percentage of the total traffic collisions in California, but statistics show that they are among the deadliest. According to the National Highway Traffic Safety Administration (NHTSA), more than 6,200 people on foot are killed in these incidents, accounting for 17 percent of all motor vehicle crash fatalities. Plus, an estimated 76,000 victims suffer injuries in collisions while walking. Individuals in the Bay Area are at a higher risk, as 82 percent of all pedestrian accident deaths occur in urban areas.
Whenever a person is struck by a car while walking, the automatic assumption is that the driver of the motorized vehicle is at fault.  This is very often the case.  However, an individual on foot may also contribute to such crash by not following the law.  In such a situation, there could be significant implications for your rights. An Oakland pedestrian accident attorney can provide details, but you should note how liability works with application of the comparative negligence rule.
Liability in Pedestrian Collision Cases: A person on foot is considered a road user when walking on sidewalks, crossing at intersections, and other traffic areas. As such, the same laws that apply to motor vehicle crashes apply, and a victim must prove the essential elements of negligence. You must have evidence showing:
The motorist had a legal duty to exercise reasonable care behind the wheel;
That person breached the duty of care through unsafe driving;
The breach of duty was the reason the pedestrian accident occurred; and,
You suffered losses as a result of being hurt.
Examples of driver negligence include speeding, running red lights, failure to yield, and many other forms of carelessness. Distracted driving also remains a problem, despite laws against cell phone use while operating a vehicle. This issue especially affects people on foot: Drivers tend to pull out their device while stopped at an intersection, which coincides with when a pedestrian is crossing.
 How Comparative Fault Works in California: If the pedestrian was also negligent in causing the collision, your compensation will be reduced by the amount of fault linked to your own actions.  This is called "comparative fault".
California's version of the rule is "pure" comparative fault. This means that you can still recover monetary damages for any percentage of liability that is assigned to you. If you were awarded $100,000 in a claim but were 30 percent at fault, you will receive $70,000.
Trust Our Oakland Pedestrian Accident Lawyers for Legal Help
 Comparative fault can impact your rights if you were hurt, but there are strategies to minimize a finding of comparative fault by gathering and explaining all of the facts and setting them in the proper context with experts. For more information, please contact Venardi Zurada, LLP to set up a no-cost case review at our offices in Oakland or Walnut Creek, CA. Once we learn more about your circumstances, we will explain the legal process.
Source:
nhtsa.gov/road-safety/pedestrian-safety