The Role Of Alcohol In California Pedestrian And Bicycle Accidents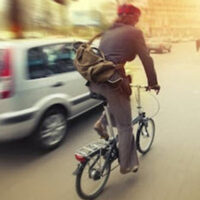 The climate in California is ideal for enjoying the outdoors year-round, so it comes as no surprise that residents of the Bay Area get around town by walking or riding bikes. However, you might be shocked to learn a few statistics about fatal pedestrian and bicycle accidents. According to the National Highway Traffic Safety Administration (NHTSA), crashes involving victims on foot or cycle have been on the rise for over a decade. Almost 6,000 pedestrians and more than 780 bicyclists are killed every year in collisions, amounting to 565 fatalities every day. Plus, many other victims suffer devastating injuries due to motorist negligence.
California law does provide you with remedies if you were hurt while walking or riding your bike, so it is wise to retain an experienced Oakland bicycle accident attorney for assistance with the legal process. Still, some additional statistics and tips on how to protect yourself may help you avoid becoming a victim.
Statistics on Alcohol Use and Vulnerable Road Users 
There are multiple reasons why these incidents are so dangerous, starting with the size differential between a motorized vehicle and a pedestrian or bicycle rider. Other factors include reduced visibility of people on bikes or walking, as well as the lack of a protective barrier to protect the victim from a violent impact. These are considerations that you can do little to change.
However, when it comes to drinking alcohol and making the decision to travel by bicycle or foot, you should be aware of the implications. Data from the NHTSA indicates:
Alcohol use is reported in around one-third of all fatal bicycle collisions.
In 21 percent of bike crashes, the bicyclist had a blood alcohol concentration (BAC) at the legal limit or above. The driver of the motorized vehicle had a BAC of zero in 85 percent of all bicycle accidents.
Alcohol use is reported in almost half of all deadly pedestrian accidents.
In approximately 33 percent of pedestrian collisions, it was the person on foot who had a BAC of .08 percent or above. Just 13 percent of all pedestrian accidents involved a motorist with a BAC above the legal limit.
How to Protect Yourself Against Pedestrian and Bicycle Accidents 
With these statistics in mind, it is important to do all you can to prevent collisions with motorized vehicles. Some safety tips include:
Always remember that people on foot and bike are required to comply with California traffic laws;
Wear a helmet and use designated bike lanes when riding;
Be predictable when sharing the road; and
Never use your phone when riding or walking.
Discuss Legal Options with Our Oakland Pedestrian and Bicycle Accident Lawyers 
While exercising a few safety tips can help protect you and your family, legal action may be necessary when a negligent motorist fails to use proper caution. For more information about recovering compensation for your losses, please contact Venardi Zurada, LLP. We can set up a free consultation to review your situation at our offices in Oakland or Walnut Creek, CA.
Resource:
nhtsa.gov/sites/nhtsa.dot.gov/files/documents/14046-pedestrian_bicyclist_safety_resources_030519_v2_tag.pdf