Is Lane Splitting by Bicycles Legal in California?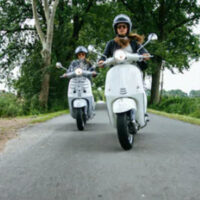 If you ride your bike around the Bay Area for transportation, exercise, or fun, you are aware that the rules of the road apply to you. The California Driver's Handbook states that the laws are for all road users, including motorcycle riders, bicyclists, and pedestrians. One that you might wonder about is lane splitting, in which someone on a motorcycle rides between lanes of traffic where vehicles are slowed or stopped. Motorcycle lane splitting is legal in California, the only US state where it is allowed.
Based on the two-wheeled similarities, you might wonder if bicycle riders are permitted to lane split in the same way as motorcyclists. In busy traffic, it would certainly be tempting to get through faster when you have to ride through congestion. However, it is not legal for bikes to split lanes in California. In fact, doing so increases the potential for Oakland bicycle accidents. Some background information should help explain.
California's Lane Splitting Law: Bicyclists are prohibited from lane splitting for two reasons:
The California Vehicle Code section on lane splitting specifically states that it applies to motorcycles as defined by law. A motorcycle is a vehicle with up to three wheels, which has a motor that displaces 150 cubic centimeters (150 cc). A bicycle does not have a motor, so a rider is not permitted to split lanes as described in the law.
All bicyclists must ride in designated bike lanes, where available, or as close to the right shoulder as possible. To split lanes, you would be violating this rule that applies to bicycle riders.
 Dangers to Bicycle Riders: Despite the law, there are many reasons that bicyclists should avoid lane splitting. A motorcycle can get up to speed when traffic picks up, but you will not be physically capable. You will be much slower, with cars flying by and motorists not prepared to react. Plus, your bicycle is much narrower and lower in profile than a motorcycle, making it less visible to other drivers.
Other Important Laws for Bike Riders: Some additional rules exist for your safety as a bicyclist, and one of them is California's bicycle buffer zone law. The Three Feet for Safety Act requires motorists to give space when passing.
Another critical rule to know is how to make a left turn when riding your bike. You will be entering into moving traffic instead of riding alongside. Using arm signals, navigate into the left lane or turn lane before making a safe left turn. You can also dismount, take your bike to a crosswalk, and be a pedestrian to get through the intersection.
You Can Count on an Oakland Bicycle Accident Lawyer for Assistance
It is illegal for bike riders to lane split in California, but the law is not the only reason to avoid it. For more information on your rights after a collision, please contact Venardi Zurada, LLP in Oakland or Walnut Creek, CA. We can schedule a no-cost case review with a bicycle accident attorney who will explain how the legal process works.
Source:
dmv.ca.gov/portal/handbook/california-driver-handbook/