National Bike Month Was In May: Protect Yourself From Common Risks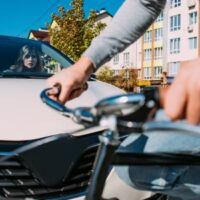 Californians are lucky enough to enjoy bicycling all year long due to the temperate climate, but there is one event that appeals to those living in areas where Spring means the first ride of the year. May is National Bike Month, an occasion to remind bike riders about safety and help them get their bikes in order after a few months off. In California, more than 160 people are killed and more than 11,100 victims are injured in bicycle accidents every year. These figures represent a decrease from the highs in 2013, when more than 13,200 bike riders were hurt in collisions. Perhaps the efforts of National Bike Month organizers, particularly spreading the word on safety, are behind the decrease.
If you were hurt in such an incident, you can count on an Oakland bicycle accident attorney to assist with legal remedies. However, you may benefit from reviewing some basic tips and information on how bike crashes happen.
 Common Causes of California Bicycle Accidents 
The reason that bike collisions happen is driver negligence, which is a legal theory of liability. You can obtain compensation if you can prove that the other motorist failed to exercise reasonable care while driving, and this breach was the direct cause of the accident in which you were injured. For example, a driver may be negligent by:
Running red lights or stop signs;
Speeding;
Driving while under the influence of alcohol or drugs;
Failure to yield;
Not complying with regulations on designated bike lanes;
Failing to provide bike riders with a three-foot buffer zone;
Texting, talking on the phone, surfing the internet, or posting to social media;
Engaging in other forms of distracted driving, such as eating, playing with the radio, using a GPS, or putting on makeup.
Safety Tips for Bicyclists 
The most important recommendation for bike riders is one you have heard many times: Wear a helmet. Head trauma is the top cause of fatalities to bicyclists, but those that do survive can suffer serious medical consequences from head injuries. Consider the fact that there are almost always two impacts for the bike rider, and the secondary impact of hitting the ground can be extremely violent. Additional safety tips for bicyclists include:
Wear closed shoes, not flip flops or sandals.
Use proper hand signals when making turns to alert motorists to your intentions.
Never carry a passenger on a bicycle meant for one rider.
Make sure your bicycle is equipped with lights when riding at night.
Always follow all California traffic laws, which apply to bike riders just as other road users.
Do not ride your bicycle while impaired by alcohol or drugs.
Discuss Legal Options with an Oakland Bicycle Accident Lawyer 
If you were hurt in a bike accident caused by a negligent motorist, you may qualify to recover compensation for your medical costs, pain and suffering, and many other losses. To learn about the legal process, please contact Venardi Zurada, LLP. We can set up a no-cost case review at our offices in Oakland or Walnut Creek, CA.
Source:
bikeleague.org/bikemonth#:~:text=In%202022%2C%20we'll%20be,on%20May%201%20for%20%23BikeDay