How Much Does A Helmet Really Work In A California Bicycle Accident?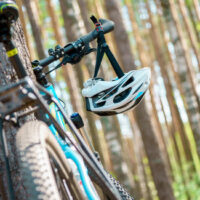 Even without reviewing the statistics, you can guess that a helmet offers effective protection for the head and neck in a bicycle accident. Data from the National Safety Council (NSC) confirms this assumption and offers proof that helmets work remarkably well. When looking at all fatalities from bicycle accidents, 54 percent of victims were not wearing a helmet. Additional figures reveal that helmets reduce the risk of head injury in a bike crash by almost 75 percent. Though California does not require anyone over 18 years old to wear a bicycle helmet, this information should be convincing.
Unfortunately, the one thing helmets cannot do is prevent bike collisions. You are still at risk of being hurt when sharing the road with negligent drivers. Legal remedies are available if you were injured or lost a loved one, and an Oakland bicycle accident lawyer will be at your side to negotiate settlement or take your case to court. You can also check out some important information about the effectiveness of helmets.
Additional Statistics on Bike Collisions and Helmet Use: As even more proof that helmets work well to prevent fatalities, serious head injuries, and other harm, note the following:
Around one-third of all injuries to bicycle riders are to the head.
A total of 80,000 victims seek treatment at the ER specifically for head injuries, and the majority of them are diagnosed with brain trauma.
Children who wear a helmet while biking are 76 percent less likely to suffer head injuries compared to those who did not.
Adults account for 88 percent of all bike accident fatalities.
Deaths among bicyclists aged 20 and younger have dropped almost 90 percent since 1975, a possible effect of helmet laws for children in California and other US states.
Since 1975, bicycle accident fatalities have tripled among individuals 20 years and older.
In addition to protecting the head and skull, helmets reduce the change of trauma to the face and neck by up to 33 percent. 
Types of Head Injuries in Bicycle Accidents: Even a minor blow to the head can cause the brain to shift within the skull and strike against hard bone. The result is a concussion, which can still lead to loss of consciousness and long-term consequences. This type of head injury is classified as traumatic brain injury (TBI), but there are others that can be extremely serious or life-threatening. Examples include:
Subdural hematoma, which is damage to blood vessels in the space between the skull bone and brain;
Extradural hematoma, a collection of blood inside the inner surface of the skull; and,
Skull fractures, which can lead to penetrating brain injuries from bone shards.
Get Legal Advice from an Oakland Bicycle Accident Attorney
To learn more about your rights, please contact Venardi Zurada, LLP to speak to a member of our team. We are happy to set up a complimentary case evaluation at our offices in Oakland or Walnut Creek, CA. A California bicycle accident lawyer can explain the legal process after a bike collision.
Source:
nsc.org/safety-first/bicycle-safety-statistics-may-surprise-you