Statistics Reveal the Dangers of Left Turn Crashes in California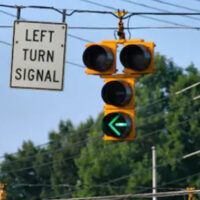 When you consider the types of careless traffic maneuvers and misconduct that are most likely to cause California auto collisions, you probably assume speeding, distracted driving, and disregarding traffic signals top the list. These are most definitely risky acts, but statistics from the California Highway Patrol 2017 Annual Report of Fatal and Injury Motor Vehicle Traffic Collisions reveal another culprit linked to car accidents: Left turns. Of the roughly 363,000 traffic crashes that occur every year, almost 38,500 are associated with left turns or making a left U-turn.
It may come as a relief to know that you have options when injured in a left-hand turn crash, in similar fashion to your legal remedies for auto collisions caused by other driver negligence. The key to getting the compensation you deserve is retaining an Oakland car accident lawyer who can guide you through the process. Still, it is helpful to know California laws apply to left turn collisions.
Fault in Left Turn Crashes 
Regardless of the specific underlying factors, most California auto collisions are the result of driver carelessness. The legal term for this concept is negligence, and it requires you to prove that the other motorist caused the accident by engaging in careless driving. What is considered careless will vary, but the standard is based upon reasonableness and what a prudent motorist would do under the same circumstances.
In the context of left turn crashes, examples of negligence by the driver making the maneuver include:
Not yielding to oncoming traffic, as is required by California traffic regulations
Failure to use a blinker to indicate that he or she was turning
Improper estimation of the speed of oncoming traffic, leading the motorist to turn in front of oncoming cars 
Factors That Impact Liability 
From the above examples, you might expect that the driver turning left will be at fault in most situations. However, there are some exceptions to liability in negligence-based cases like left turn collisions. These scenarios can shift liability and result in less compensation for an injured victim, since California follows the law of comparative fault. If the claimant in an auto crash case was partly responsible for causing the incident, compensation will be reduced by the amount of fault attributable to him or her.
As such, even if the other driver made a negligent left turn, you might recover less in monetary damages if:
You were speeding through the intersection
You drove under the influence of alcohol or drugs
You ran a red light or stop sign
You made an improper lane change while traveling through the intersection
Our Oakland Car Accident Attorneys Will Fight for Your Rights 
Careless left turns continue to be a problem for motorists in California, but auto crash laws provide you with options if you were injured or lost a loved one in such a crash. For more information, please contact Venardi Zurada, LLP at our offices in Oakland or Walnut Creek, CA. We can schedule a free consultation to review your situation and determine how to proceed with your claim.
Resource:
chp.ca.gov/programs-services/services-information/switrs-internet-statewide-integrated-traffic-records-system/switrs-2017-report