Statistics Reveal the Dangers of Left Turn Crashes in California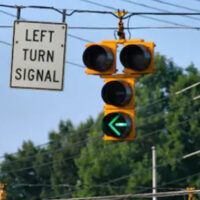 When you consider the types of careless traffic maneuvers and misconduct that are most likely to cause California auto collisions, you probably assume speeding, distracted driving, and disregarding traffic signals top the list. These are most definitely risky acts, but statistics from the California Highway Patrol 2017 Annual Report of Fatal and Injury Motor Vehicle Traffic Collisions reveal another culprit linked to car accidents: Left turns. Of the roughly 363,000 traffic crashes that occur every year, almost 38,500 are associated with left turns or making a left U-turn.
It may come as a relief to know that you have options when injured in a left-hand turn crash, in similar fashion to your legal remedies for auto collisions caused by other driver negligence. The key to getting the compensation you deserve is retaining an Oakland car accident lawyer who can guide you through the process. Still, it is helpful to know California laws apply to left turn collisions.
Fault in Left Turn Crashes 
Regardless of the specific underlying factors, most California auto collisions are the result of driver carelessness. The legal term for this concept is negligence, and it requires you to prove that the other motorist caused the accident by engaging in careless driving. What is considered careless will vary, but the standard is based upon reasonableness and what a prudent motorist would do under the same circumstances.
In the context of left turn crashes, examples of negligence by the driver making the maneuver include:
Not yielding to oncoming traffic, as is required by California traffic regulations
Failure to use a blinker to indicate that he or she was turning
Improper estimation of the speed of oncoming traffic, leading the motorist to turn in front of oncoming cars 
Factors That Impact Liability 
From the above examples, you might expect that the driver turning left will be at fault in most situations. However, there are some exceptions to liability in negligence-based cases like left turn collisions. These scenarios can shift liability and result in less compensation for an injured victim, since California follows the law of comparative fault. If the claimant in an auto crash case was partly responsible for causing the incident, compensation will be reduced by the amount of fault attributable to him or her.
As such, even if the other driver made a negligent left turn, you might recover less in monetary damages if:
You were speeding through the intersection
You drove under the influence of alcohol or drugs
You ran a red light or stop sign
You made an improper lane change while traveling through the intersection
Our Oakland Car Accident Attorneys Will Fight for Your Rights 
Careless left turns continue to be a problem for motorists in California, but auto crash laws provide you with options if you were injured or lost a loved one in such a crash. For more information, please contact Venardi Zurada, LLP at our offices in Oakland, Orinda, or Redding, CA. We can schedule a free consultation to review your situation and determine how to proceed with your claim.
Resource:
chp.ca.gov/programs-services/services-information/switrs-internet-statewide-integrated-traffic-records-system/switrs-2017-report
You can be confident in relying on our zealous and effective Oakland personal injury lawyers:
We have served Northern California for over 35 years.

Our attorneys have been honored with numerous accolades, including SuperLawyers, AV Rating, and Top 100 Trial Attorney Awards.

In our decades of legal service to the community, we have garnered a substantial reputation. We are respected by opposing counsel, feared by insurance companies, and followed by jurors.

We combine Big Firm experience with boutique office attention and care. Several of our attorneys have experience working for the biggest law firms in the country, including the most prominent maritime defense law firm. Our attorneys rely on that big-firm know-how but prefer the personal touch of a smaller firm, allowing us to provide individualized and attentive representation to each of our clients.

We've been through it, too. Attorney Mark Venardi had to personally deal with a medical malpractice injury he suffered at a time when he was working a blue-collar job on an offshore oil rig; he knows what it's like to be a working man dealing with a personal injury. He built his way up to working for the biggest maritime defense firm in the country, before deciding to focus on helping people like himself who were hurt by negligence and mistreatment from others.

We like to fight for the underdog. Attorney Martin Zurada is an immigrant and the son of immigrants who tirelessly worked his way up through education and experience to attain the American dream. Even though he has served in large, high-level litigation law firms, he prefers helping clients directly, fighting against injustices, and securing victories for the little guy who has been wronged.

We win. We have secured multi-million dollar verdicts and settlements. In our combined tenure, we have recovered tens of millions of dollars for our clients across our broad areas of practice.

We care first and foremost about our clients. We dedicate ourselves to serve each and every client personally, and we make ourselves available to our clients around the clock.

There is no cost to you until we win. If we don't make a recovery for you, we will not collect a fee. And all initial consultations are free of charge.
Dedicated Areas of Practice
We offer a wide range of litigation services for Oakland personal injury and employment law clients. Specifically, our areas of dedicated practice span the following issues:
Employment Law. California employers must assure proper pay to employees and comply with a variety of rules and regulations to prevent discrimination and unfair treatment of employees. We represent victims of wage and hour violations, employment discrimination, workplace harassment, retaliation, wrongful termination, and any other form of California workplace mistreatment. If you believe you were treated inappropriately at work, we can help.
Personal Injury. If you've been injured due to another's negligence, you deserve compensation. That's where we come in. As Oakland personal injury attorneys, we right the wrongs done to our clients. And we do it at our cost during the entire duration of your case. There is never any fee until we win. Give us a call if you have been hurt in a car accident, by a toxic spill or contamination, as a result of medical malpractice, due to abuse or neglect, in a maritime accident, by a vicious animal attack, or any other incident caused by someone else's negligence.
The Sooner You Speak to an Oakland Injury Lawyer, the Stronger Your Chances for Recovery Will Become.
Contact the Oakland injury lawyers at Venardi Zurada today, and let's get started. We are available to talk any time, so whether you call, email or chat online, we'll respond and set up an appointment to meet you. We have several Spanish speakers in the office and welcome the opportunity to cater our services to Oakland's Spanish-speaking population. You pay no fee until we win for you, so you have nothing to lose by contacting our office for a free consultation. The sooner you call, the faster we can start getting results for you. Call 925-937-3900.