Overview Of Railroad Worker Rights Under FELA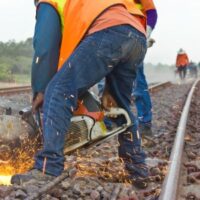 Working on and around railroads is one of the most dangerous occupations in the US, and statistics reveal the threat to railway employees. So far in 2021, there have been more than 2,700 rail-related accidents according to the Federal Railroad Administration (FRA). These incidents have caused 260 fatalities, already exceeding the average of 241 deaths that usually occur every year. Plus, more than 2,650 railroad workers suffer injuries because of on-the-job conditions, many of which are preventable.
Though you might expect that California's workers' compensation system provides you with options, there is a unique law that applies to railway employees who suffer from work-related medical conditions. You will need to pursue your remedies under the Federal Employers Liability Act (FELA), which requires proof of employer negligence to recover damages. The process can be even more complex than other personal injury cases, so it is wise to consult with an Oakland railroad worker injury lawyer.
Summary of the Laws 
FELA establishes a cause of action that is similar in some ways to other personal injury cases. For instance:
Liability is based upon negligence, so you need to show that you were hurt because your railway employer failed to maintain a safe work environment.
The legal process typically begins by filing an insurance claim, and then moving to litigation if you cannot reach an agreement with the insurer.
You can recover a wide range of damages in a successful FELA claim, including costs of medical care, lost wages, pain and suffering, and more.
Still, there are multiple factors that make FELA remedies distinct. The first, most obvious, is that you must be a railroad employee who was injured in a work-related accident while performing job tasks. Another works in your favor in terms of proving your rights: Unlike the standard of proof in other personal injury cases, you only need to show the presence of negligence and that it played a role in the injuries you sustained.
What To Do After a Railroad Accident 
Securing your rights under FELA involves some work on your part, though you can rely on your lawyer for legal tasks. In the immediate aftermath of a railway accident:
Get appropriate medical care, whether you head to the ER, an urgent care center, or your physician.
Notify your employer about the accident and include basic details.
Avoid conversations with your employer's insurance company, other than to confirm contact details and dates.
Reach out to a skilled FELA lawyer who will deal with the insurance company, negotiate settlement, and file a lawsuit in court if necessary to protect your rights.
Learn More from an Oakland Railroad Worker Injury Attorney 
If you were hurt on the job while working as a railway employee, time is of the essence to get in touch with our team at Venardi Zurada, LLP. Please contact our offices in Oakland or Walnut Creek, CA to set up your free consultation with our experienced FELA lawyers today.
Resource:
safetydata.fra.dot.gov/officeofsafety/publicsite/summary.aspx