FELA: Federal Workers' Comp For Railroad Employees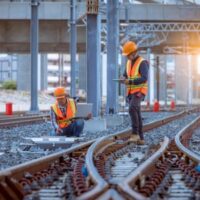 Many people tend to lump workers' compensation concepts under one umbrella, but there are numerous programs that pay benefits to employees who are injured or killed because of work-related conditions. For those working on or around the more than 7,000 miles of railroad track in California, the federal workers' comp system for railway employees is a particularly important example. The key provision of the Federal Employers Liability Act (FELA) puts responsibility on BNSF, Union Pacific, and other rail companies to maintain a safe workplace. Breach of this duty can lead to accidents and unsafe work conditions which, in turn, can cause serious injuries to railroad workers.
Just like workers' comp systems vary by state, they are also very different when you compare basic California laws to the federal FELA. These differences work in your favor in some ways, and an Oakland railroad worker injury lawyer can provide details. Meanwhile, some answers to frequently asked questions offer some general information.
Which employees are covered by FELA?
Almost any person who works around rail tracks, platforms, stations, crossings, loading docks, and other areas of the rail industry will qualify for benefits under FELA. Even if your primary job is not directly related to working on the tracks or trains, you may be eligible 
What do I have to prove to recover compensation for railroad injuries? 
Like other personal injury accidents, you do need to establish that your employer was negligent in not maintaining a safe workplace. However, there is a key distinction:
With personal injury claims, you must prove that negligence was the direct cause of the accident. In other words, you need evidence showing that the incident would not have occurred but for the careless misconduct.
For FELA actions, you only need to show that negligence somehow played a role in causing your injuries. This burden of proof is called "featherweight" because it is a lower standard, but it serves as an advantage for the injured railroad employee. 
Is there a deadline on pursuing my legal remedies under FELA?
The statute of limitations for cases based upon railroad worker injuries is three years, and the time period is measured from the date of the accident. If you do not file a lawsuit in court before the FELA statute of limitations expires, you are barred from obtaining benefits.
 What compensation is available for injured railroad workers?
FELA is more expansive than California workers' comp laws in terms of the benefits you can obtain in a successful claim. You may be entitled to:
Medical costs to treat your injuries;
Lost wages and lost future earnings, if you are unable to work temporarily or permanently;
Pain and suffering; and
Emotional distress.
Our Oakland Railroad Worker Injury Attorneys Can Provide Specifics
 Getting answers to FAQs about FELA is helpful, but it is important to work with an experienced lawyer to ensure a smooth claims process. Our team at Venardi Zurada, LLP is ready to tackle the challenges, so please contact our offices in Oakland, Orinda, or Redding, CA to schedule a complimentary case review.
Resource:
law.cornell.edu/uscode/text/45/51