What If I Never Fully Recover From California Car Accident Injuries?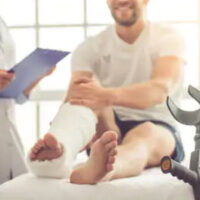 Given the violent impact of a car accident, it is not surprising to learn that around 285,000 people are hurt in motor vehicle crashes every year. However, around six percent of these victims suffer serious injuries, which is defined by the Federal Highway Administration (FHWA) as:
Deep lacerations;
Broken bones in the extremities;
Crush injuries;
Burns to more than 10 percent of the body;
Paralysis; or
Damage to internal organs.
If you suffered any of these injuries, you probably realize there is a chance for long-lasting complications. Permanent harm from an auto crash affects your health and your rights, so it is wise to reach out to an Oakland car accident attorney to discuss the legal process. Some information may help you understand how compensation works if you never fully recover from California vehicle collision injuries.
Types of Damages for Permanent Injuries 
Motor vehicle crash claims are based upon negligence, so you have to prove that the accident was caused by the other motorist's failure to drive safely. Once you get over this threshold, you must also show that you suffered losses for which you are entitled to compensation. There are two categories of damages for permanent injuries:
Economic Damages: These are the specified, definable losses and out-of-pocket expenses related to treating your injuries. Economic damages include costs of medical care, lost wages, transportation for treatment, and related losses.
Noneconomic Damages: This category includes the personal, subjective losses you sustain, which cannot be figured out by using a calculator such as pain and suffering, emotional distress, and other ways your injuries affect your quality of life.
Determining the Amount of Compensation for Permanent Injuries 
From the above descriptions, you can see what kinds of evidence will support your claim for economic damages. To show the amount for medical expenses, you can use invoices, receipts, your medical records, and insurance documentation. Paystubs or income tax forms can be presented to prove the income you lose from missing work.
Noneconomic losses are much more complicated in any auto crash claim; the complexities are compounded when you suffer from permanent injuries because their implications for your future need to vigorously litigated, documented, and shown to the insurance company or the jury. The most important resources for proving these damages are medical experts and economists, who can assist with establishing:
Disability severity as far as employment opportunities and ability to live independently;
The costs of daily care;
Expenses for past and future medical treatment for permanent injuries; and
Lost wages and future earning capacity by a family member who must provide caretaking tasks.
Our Oakland Car Accident Lawyers Can Advise You on Your Rights 
When you suffer long-term complications or permanent harm after an auto collision, it is even more essential to retain experienced legal counsel for help with your claim. At Venardi Zurada, LLP our team is prepared for the challenges, so please contact our firm to set up a free consultation. We can meet with you at our offices Oakland or Walnut Creek, CA.
Resource:
httsafety.fhwa.dot.gov/hsip/spm/docs/factsheet-mmucc-4edition.pdf