Railroad Workers Have Rights When Exposed to Hazardous Chemicals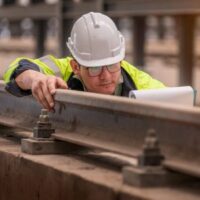 People across the US rely on freight trains as an important lifeline for getting a wide range of products to their final destination, but the workplace environment is a dangerous one for railroad workers. According to data from the Federal Railroad Administration (FRA), there are almost 9,000 train accidents annually, including incidents in yards, derailments, collisions, and many others. Dozens are killed, while around 2,970 railroad workers are injured in these accidents.
Rail transportation has proven to be the safest way to move large quantities of chemicals across long distances, so many trains haul hazardous materials. The risk of employees being exposed to these substances is high, leaving many with severe medical conditions. The federal workers' compensation program, Federal Employers Liability Act (FELA), covers these ailments. However, it is a different system, so getting help from an Oakland railroad worker injury attorney is crucial. Some background about exposure to hazardous chemicals and your rights under FELA is also useful.
Medical Conditions from Exposure: Railroad workers function around explosives, acids, corrosive substances, toxic airborne chemicals, petroleum, and heavy metals used in coal processing. Exposure to these hazardous materials over even short amounts of time can lead to: 
Lung cancer, especially from silica dust in the railway foundation rock;
Mesothelioma from inhalation of asbestos particles;
Benzene exposure from the train's diesel fumes, which can cause leukemia and other forms of cancer;
Lead exposure, which can lead to heart disease, cardiac arrest, renal failure, and problems for reproductive systems for both males and females.
 Your Rights under FELA: Railroad workers are covered by this statute, which creates a type of workers' comp system. However, a key difference with FELA is that you must prove negligence, whereas state workers' compensation is no-fault. You must show that your employer or another associated party was somehow negligent, though the standard is lower as compared to personal injury lawsuits. Employers can be liable for failure to:
Maintain safe equipment;
Keep the workplace clear of hazards;
Enforce safety regulations; and,
Provide adequate training for railroad employees, so they do not create a risk of accidents.
 Compensation for Injured Railroad Workers: There is another important difference between FELA claims and filing for workers' comp. Under California law on workplace accidents, you cannot recover amounts for pain and suffering. With FELA, you can obtain compensation for:
All costs to treat your injuries, including surgery, hospitalization, medications, and other medical care;
All lost wages from time you missed work, as well as future earning capacity;
Pain and suffering, emotional distress, scarring and disfigurement, and many other losses that affect quality of life.
Discuss Remedies with an Oakland Railroad Worker Injuries Lawyer
 FELA is a type of workers' comp, but you can see the complexities with pursuing a claim. To learn how we can help get the full compensation you deserve, please contact Venardi Zurada, LLP. You can schedule a no-cost case review at our offices in Oakland or Walnut Creek, CA. After assessing your situation, a FELA attorney will advise you on remedies.
Source:
railroads.dot.gov/safety-data/accident-and-incident-reporting/accidentincident-dashboards-data-downloads