OSHA Statistics Reveal The Risks Of Construction Accidents In California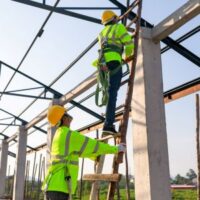 When you think about the industries that present the highest risk of accidental injuries, construction is probably among the top jobs that come to mind. Data compiled by the US Occupational Safety and Health Administration (OSHA) proves that this assumption is correct, as approximately 1 in 5 employee fatalities annually are in construction. Many other workers suffer injuries that render them unable to work, an extreme hardship when medical bills are piling up.
Those injured in construction jobs have multiple options under California personal injury and workers' compensation laws, though the details vary according to the circumstances. An Oakland construction accident lawyer can explain the options that apply to your situation. However, additional statistics on construction accidents should help you understand the risks.
A Closer Look at the Data 
Figures from OSHA and other resources reveal that construction workers are exposed to numerous on-the job threats:
Of the most commonly cited OSHA violations, 4 of the Top 10 are specifically linked to the construction industry.
Violations of OSHA standards on fall protection are the #1 reason employers are cited, while training requirements on fall protection are also a factor.
An employer's failure to comply with regulations on fall protection frequently leads to head trauma, including concussion and traumatic brain injury (TBI). Construction workers also suffer back, spinal cord, and neck trauma.
Noncompliance with requirements in scaffolding ranks fourth in terms of OSHA citations for construction employers. Unless scaffolds are properly erected, maintained, and dismantled, serious injury can result.
Improper handling, training, and usage of ladders is fifth on the list of OSHA citations. 
Legal Options for Injured Construction Workers 
When hurt on-the-job, it is likely that your remedy falls under California workers' comp laws. You do not need to prove that your construction employer was at fault, and you may qualify for medical expenses, wage replacement, disability, and other benefits. Workers' comp is your sole remedy in most cases, and you cannot recover for pain and suffering.
California personal injury laws may apply to some construction accidents, in which case you may be eligible to obtain amounts for pain and suffering. You might have legal remedies in civil court if:
Your employer does not carry workers' comp insurance, which is required by law for any company that has one employee;
Intentional misconduct was the reason you were injured, such as a willful, continued violation of OSHA regulations; or
The construction accident was caused by a third party's negligence, in which case you would pursue that individual or entity. 
Reach Out to an Oakland Construction Accident Attorney for Advice 
It can be difficult to understand your legal remedies if you were hurt at a construction site, since both workers' comp and personal injuries may apply. To learn more about your options, please contact Venardi Zurada, LLP to schedule a no-cost case review with an experienced construction accident lawyer. Our team serves clients throughout California's Bay Area from our offices in Oakland, Orinda, and Redding, CA, so we are prepared to advise you.
Resource:
osha.gov/data/commonstats