Electrocution Accidents on California Construction Sites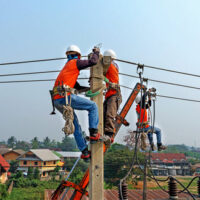 The average California construction site is a dangerous workplace even when all safety practices are observed, and there are four particular types of injuries that put employees at risk. The US Centers for Disease Control and Prevention (CDC) reports that these Focus Four Hazards are responsible for almost 60 percent of all deaths in construction every year, and one is electrocution. Unfortunately, electrical safety issues are among the most frequently cited violations by the Occupational Safety and Health Administration (OSHA). Problems include wiring errors, a lack of lockout/tagout procedures, and general electrical standards.
In most cases, an electrocution accident on a construction site is covered by California workers' compensation laws. The system offers valuable benefits that help you recover and get back to work, but there can be challenges with the claims process. You can trust an Oakland construction accident attorney to assist, and some background on electrocutions is useful.
How Electrocutions Happen in Construction: Contact with electrical sources is the reason electrocutions are common on construction sites, and employees work in close proximity to many of these sources. OSHA has identified various ways a construction worker can be injured by electrocution:
Contact with power lines, which may be buried or overhead;
Exposed wires or lack of ground-fault protection to prevent short circuits;
Using electrical equipment outdoors when it is only intended for indoor use; and,
Improper use of extension cords, which suffer more wear and tear on a construction site compared to normal usage. 
Injuries to Workers: When a person experiences electrocution on the construction site, the injuries are more serious than the shock you get from a light switch. The sources of electricity are industrial power grade, and the trauma to the body is severe. A victim of electrocution may suffer:
Burns from the electrical arc;
Irregular heartbeat from the current;
Seizures;
Headaches; and,
Loss of consciousness.
More serious electrocutions may lead to coma, heart attack, and respiratory arrest. In some cases, the effects can linger, causing heart problems a few years after the accident.
 Workers' Compensation Benefits: Injuries from electrocution can be devastating and life-threatening, so California's workers' comp system supports employees by providing medical benefits. You could receive benefits for emergency care, surgery, hospitalization, physical therapy, and other medical care that is necessary and reasonable to treat your injuries.
In addition, you may be entitled to other workers' comp benefits:
Wage replacement for time off work;
Total or partial disability benefits, on a permanent or temporary basis; and,
Death benefits, for surviving family members who lost a loved one in an electrocution accident.
Civil Lawsuit:  Most of the time workers' compensation benefits provide only a fraction of compensation for a worker's actual loss.  Many people are not aware of the fact that if the electrocution injury was at least the fault of a third-party (not the employer) then you should also be entitled to seek damages against that third-party above and beyond what you get through the workers' compensation system.  This means most larger and more comprehensive recovery for damages such as:
Past and future wage replacement for time off work;
Past and future medical expenses;
Past and future pain and suffering damages; or
Death benefits, for surviving family members who lost a loved one in an electrocution accident.
An Oakland Construction Accident Lawyer Will Assist with Your Claim 
It is reassuring to know that you can receive benefits without having to prove fault by an employer through workers' compensation, but Venardi Zurada can help you obtain a full recovery in the civil arena against any third-party who contributed to your work-place injury. Venardi Zurada, LLP is committed to helping employees, so please contact our firm today. We can set up a free consultation at our offices in Oakland or Walnut Creek, CA. A construction accident attorney will explain the process after reviewing your case.
Source:
blogs.cdc.gov/niosh-science-blog/2019/02/08/electrocution-in-construction/