HOV Lanes In California: Key Laws And Safety Concerns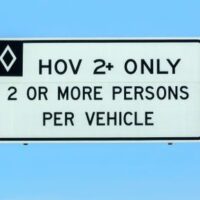 Even if you have not taken the opportunity to use them, you are probably aware of the high-occupancy vehicle (HOV) lanes along I-80, 280, 880 and 101, other main corridors in San Francisco and across Bay Area bridges. The California Vehicle Code allows officials to create these lanes, which got their name because of the requirement that there be at least one passenger in addition to the driver. These so-called "carpool" lanes are intended to alleviate traffic congestion, encourage fuel conservation, and reduce emissions.
Still, the creation of HOV lanes and their operating schedule is somewhat disruptive. Despite the benefits, some physical features and regulations can increase the potential for collisions. An Oakland car accidents attorney can advise you on the legal process if you were hurt, but you might find it useful to review some information about carpool lane crashes. 
California Laws on HOV Lanes 
These lanes are a component of the state's traffic management strategy to meet challenges with traffic congestion and environmental concerns, and there are significant differences in how they work in the far reaches of the state. In Northern California:
Highways usually operate carpool lanes from Monday through Friday, during the morning and evening rush hours. Peak hours run from 6 a.m. to 10 a.m. and 3 p.m. to 7 p.m. All vehicles can use the lanes during off-peak hours.
HOV lanes are located to the left of others. They are indicated by posted signage along the road and white diamond symbols painted on the surface.
Automobiles with 2 or more occupants and even motorcycles with a driver and passenger are allowed to use the carpool lanes.
Certain routes in San Francisco require 3 occupants to access HOV lanes, and the signage makes clear where this rule applies.
A violation of HOV laws could lead to a $490 traffic ticket, with higher penalties for subsequent offenses. 
Safety Issues in Carpool Lanes 
Drivers are negligent regardless of the presence of HOV lanes, so the same risks exist when a motorist is speeding, fails to yield, driving while intoxicated, or otherwise not driving safely. However, there are some unique features that increase the dangers. One of the biggest concerns occurs during the transition period, just before carpool lanes go into effect and after they terminate. Drivers are anxious to get in or out of the lanes to comply with the law. In addition:
HOV lanes can be more congested.
Many motorists are unfamiliar with carpool lane laws, leading to mistakes in navigating traffic.
Barriers that separate ingress and egress for HOV lanes can become dangerous obstacles when drivers are unprepared for them. 
An Oakland Car Accident Lawyer Can Assist with Legal Remedies 
HOV lanes offer considerable benefits for California motorists, but there can also be risks. You are in a better position to protect yourself when you know these laws and safety issues. For more information on your rights, please contact Venardi Zurada, LLP. We can schedule a free consultation at our offices in Oakland or Walnut Creek, CA. An experienced attorney can advise you on your legal remedies after reviewing the details of your case.
Source:
https://leginfo.legislature.ca.gov/faces/codes_displaySection.xhtml?lawCode=VEH&sectionNum=21655.5.