Laws You May Not Know About Motorcycle Lane Splitting In California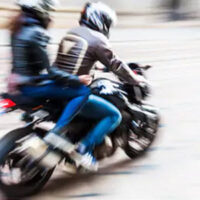 Avid riders already know that motorcycle lane splitting is legal in California, as the only US state that allows driving a two-wheeled vehicle between passenger cars in traffic. Lawmakers lifted the ban on this practice as of January 2017, so many riders frequently split lanes to avoid heavy congestion. If you are one of them, you have probably heard all the safety tips about wearing a helmet, avoiding other motorists' blind spots, and double-checking before making a maneuver.
However, all the tips in the world cannot prevent all motorcycle accidents from happening. When they do, the laws protecting your rights and enabling you to seek compensation are among the most important considerations. Your Oakland motorcycle accident attorney has in-depth knowledge of these concepts, but you might find an overview to be useful. 
California is "At-Fault" for Traffic Crashes 
Unlike no-fault states where motorists turn to their own insurers for accident-related losses, you would file a claim with the other driver if you were injured in a lane splitting accident. It is necessary to establish fault by proving:
The at-fault motorist had a duty to drive safely, which includes looking for motorcycle riders land splitting;
That person breached this duty of care;
The breach of duty was the direct cause of the motorcycle crash; and
You suffered losses as a result of being injured. 
Your Own Negligence is Also Important 
The other side of the coin with vehicle accidents is that any misconduct by the victim will be considered for purposes of compensation. California's contributory negligence law operates to reduce your monetary damages if you were also negligent. Still, because the practice is legal, lane splitting would not be evidence of your own negligence unless it was accompanied by other carelessness. 
The Shoulder is Still Off-Limits 
In defining what constitutes legal lane splitting, lawmakers specifically excluded riding along the shoulder. The statute only applies when a motorcyclist is traveling between lanes of passenger vehicles. It even points out that both tires of a two-wheeled vehicle must be in contact with the ground when lane splitting, so daredevil moves could run afoul of the contributory negligence law. 
How Lane Splitting Laws Affect Driver Attitudes 
Many motorists find the practice annoying or view it as a rider taking unnecessary risks, even when they know lane splitting is legal in California. This attitude can carry over into how they treat motorcyclists on the road, so make sure to follow all safety recommendations when lane splitting.
Consult with Our Oakland Motorcycle Accident Lawyers Right Away 
One last law on motorcycle lane splitting in California should persuade you to take action quickly: California's statute of limitations in these cases is two years, so you must sue in court before the deadline expires. Fortunately, you do not need to become proficient in personal injury laws when you retain Venardi Zurada, LLP for assistance with your claim. For more information on how we can help, please contact our offices in Oakland or Walnut Creek, CA to set up no-cost case assessment with one of our motorcycle crash attorneys.
Resource:
leginfo.legislature.ca.gov/faces/codes_displaySection.xhtml?lawCode=VEH&sectionNum=21658.1