Who Is Liable For Accidents At California Cruise Ship Terminals?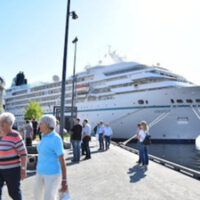 You are probably well-aware of the types of accidents that can occur on a cruise vacation, including slip and falls, food-borne illness, and incidents on shore excursions. However, you might not consider the dangers that can lead to serious injuries even before you step onboard the ship. The Port of San Francisco is an exceptionally busy terminal, home to more than 100 cruise ship operators that head out for destinations along the coast, Hawaii, Mexico, and others. More than 400,000 passengers move through the terminal before embarking, and they may spend a couple of hours as they deal with documentation, passports, and luggage.
Amid the excitement, the potential for accidents in terminals is somewhat high. The risk increases when officials are negligent in maintaining the facility, platforms, gangways, and other spaces. Fortunately, victims have many of the same legal remedies as they do when injured at sea. A  San Francisco and Oakland cruise ship accident lawyer can explain the process, but some information on liability is also useful.
Potential Parties in Cruise Ship Terminal Accidents 
There are numerous companies and entities operating out of a cruise terminal, and they have a duty to ensure that the premises are reasonably safe for guests. You may have a claim against:
The cruise operator;
Cruise terminal officials;
Individual tenants of the terminal, such as restaurants, bars, and shops;
The manufacturer of dangerous, defective equipment;
A property maintenance and/or security company; and
Many others. 
Tips for Victims Injured in Cruise Ship Terminals 
As with any accidental injury, your first priority should be getting property medical treatment. Most terminals will have first aid stations or protocols for handling injuries, but you might need advanced care for serious harm.
Some additional tips help protect your rights and support the efforts of your attorney:
Notify the cruise company right away, particularly for serious injuries that prevent you from boarding. Even if you can continue on your trip, your medical condition may affect your enjoyment of the cruise vacation. It is critical to inform cruise operator officials because you create a record showing that you were injured before embarking.
If possible, collect evidence at the scene. Take pictures and capture video of the dangerous conditions that led to the cruise ship terminal accident.
Talk to witnesses who may have observed the incident. Your traveling companions may have also seen what happened, but the accounts of neutral witnesses usually carry more weight.
Get in touch with a lawyer as soon as your injuries are stabilized. California's general statute of limitations for personal injuries is two years, but application of the law may depend on where you are in proximity to land. The deadline for filing a claim could be as short as 60 to 120 days under your contract for passage.
Consult with a San Francisco and Oakland Cruise Accident Attorney ASAP
To learn more about the process and types of compensation in a cruise accident case, please contact Venardi Zurada, LLP. We are happy to schedule a no-cost consultation to discuss details. Our team serves clients throughout the Bay Area from our offices in Oakland or Walnut Creek, CA.
Resource:
sfport.com/maritime/cruise