4 Things You Should Never Give The Insurer After A California Car Accident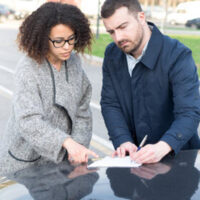 Though California may not rank at the top in the US when it comes to the overall car accident rate, the state's massive population means the total number of traffic-related crashes will always remain high. Statistics from the California Highway Patrol (CHP) indicate that more than 277,000 people are hurt in the 193,600 injury-causing collisions that occur in the state every year. If you were one of them, you probably know that you will be dealing with the at-fault driver's insurance company. You might assume that getting all essential information to the insurer will ensure prompt, full payment of your claim.
Not only is this a myth, but handing over important details to the claims adjuster can actually harm your rights when not done strategically. The only thing you should be providing is contact information for your Oakland car accident lawyer, and decline to turn over the following: 
A Statement About the Crash 
The insurer may claim that providing a written or verbal account of the collision will lead to quicker approval, but the employee has a different motivation: Getting you to admit fault or other facts that would give the company an out in making payment. Do not provide any statement and avoid answering questions from the adjuster. Most importantly: Never consent to a recorded statement. 
Pictures and Evidence from the Scene 
The insurer will be entitled to a police report and can conduct its own investigation, so it is not up to you to assist. You should keep pictures, video, conversations with witnesses to yourself because they are just like your written or verbal statements: Revealing too much could lead to a denial of your claim or otherwise harm your rights. 
Your Medical Records 
Aside from fault, all medical records generated as part of treating your injuries will be important. The insurer may request:
Details on pain prescriptions;
Information on x-rays, MRIs, CT scans, and other tests;
Physician notes on diagnosis;
Records on procedures, physical therapy, and rehabilitation;
Specifics on your physical limitations and long-term disability, if any. 
Your Signature on Anything 
If a claims adjuster asks you to sign any written document, consider it a red flag. Insurers may convince you that a prompt resolution of your claim is critical, and the company can issue a settlement check to you as soon as you sign a "Release." By agreeing, you will be giving up any rights to seek compensation in the future – even when the amount the insurer offers is woefully insufficient to cover your losses. 
Count on an Oakland Car Accident Lawyer to Deal with the Insurance Company 
There WILL come a time to turn over many of these details, but it is critical to provide details to the insurer strategically and when the time is right. To set up a free consultation with a member of the Venardi Zurada, LLP team, please contact our offices in Oakland or Walnut Creek, CA. Our car accident attorneys will handle the insurance claims process to ensure you receive fair, reasonable compensation for your losses.
Resource:
chp.ca.gov/programs-services/services-information/switrs-internet-statewide-integrated-traffic-records-system/switrs-2017-report