Is Lane Splitting Allowed Under California Motorcycle Laws?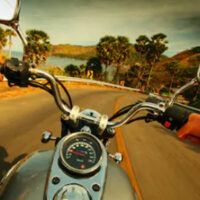 The question is answerable with a simple YES: Motorcycle riders in California law are legally allowed to operate their vehicles in the spaces adjacent to lanes of traffic. This practice has been legal since amendment of state traffic laws in 2016, which define lane splitting as driving a two-wheeled motorized vehicle between rows of stopped or moving traffic. Motorcyclists are allowed to split lanes on any divided or undivided street or highway, and many do so to avoid congestion.
However, while legal, there are still significant risks involved with lane splitting. Careless motorists are often the source of the threat, so motorcycle riders must remain vigilant and exercise safety tips to protect themselves. An Oakland motorcycle accident attorney can assist with your legal options if you were hurt, though some information about lane splitting is useful. 
Legal, BUT Dangerous 
Aside from making lane splitting legal, the changes made by the recent law also impose duties upon motorists. When encountering a motorcycle riding between lanes, drivers are prohibited from blocking or impeding in a manner that could cause harm. This provision applies to "dooring" – i.e., a motorist opening the vehicle's door directly in the path of an oncoming motorcyclist. In addition, drivers traveling in the far left lane of a highway should move to the left section of their lane to provide space for riders.
Unfortunately, not all motorists are aware of lane splitting laws. Some continue to believe that the practice is illegal, so they are less than accommodating for motorcycle riders. Many others engage in the same types of negligence that pose a risk of motorcycle accidents, such as:
Speeding;
Driving while under the influence of alcohol or drugs;
Failure to give right of way;
Distracted driving; and
Running red lights or stop signs. 
Safety Tips for Lane Splitting 
You know the importance of wearing a helmet, which is required under California law and extremely effective in preventing severe head injuries or death. Motorcycle riders are also familiar with such safety tips as conducting inspections, obeying traffic laws, and defensive driving. However, additional details may help you protect yourself when lane splitting:
Always check mirrors, blind spots, and the surrounding space when preparing to split lanes.
Only engage in lane splitting when traffic is slowed or stopped.
Make sure to signal your intentions so other motorists know the maneuver in advance.
Try to avoid lane splitting around semis and large trucks.
Do not attempt lane splitting by use of the road shoulder, as this is not considered legal lane splitting. 
Our Oakland Motorcycle Accident Lawyers Will Protect Your Rights 
Though lane splitting may be legal in California, there are still risks to understand if you frequently employ the practice of riding your motorcycle amid larger, heavier motorized vehicles. For more information about your legal options after a motorcycle accident, please contact Venardi Zurada, LLP. We can schedule a free care review at our offices in Oakland or Walnut Creek, CA. Once we assess your circumstances, we can discuss how to proceed with enforcing your rights.
Resource:
leginfo.legislature.ca.gov/faces/codes_displaySection.xhtml?lawCode=VEH&sectionNum=21658.1