Do Red Light Cameras Really Prevent Car Accidents In California?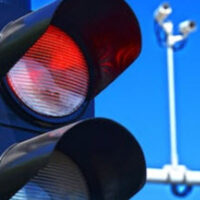 Data from the Insurance Institute for Highway Safety (IIHS) reveals that almost 850 people are killed and another 143,000 victims are injured every year because a driver ran a red light, one of the most dangerous forms of negligence plaguing California roadways today. The problem is not a new one, which is why many municipalities throughout the state have taken action by installing red light cameras to hold violators accountable. The strategy has seen some success in reducing the risk of fatal and injury-causing red light collisions by 21 percent and 14 percent, respectively.
However, it is important to view these statistics in light of other data on red-light collisions. You should discuss your legal remedies with an Oakland car accident lawyer if you were hurt, but you might find it interesting to look at how red light cameras affect red light running in California.
Additional Statistics on Cameras and Red Light Running Crashes 
Enforcing traffic laws is the best strategy for enhancing safety, and a red light camera is essentially like having a police officer present at every intersection. In various studies and through surveys, researchers have discovered:
When red light cameras are not present, a motorist will run a red light every 20 minutes on average.
Up to one-third of motorists admit to running a red light in the last 30 days, yet 86 percent of drivers state that doing so is extremely dangerous.
In a study of fatal red light running collisions, the motorist who ran through the signal is most likely a younger male with prior accidents and/or DUIs in his past.
Motorists who blow through red lights are more likely to be speeding, intoxicated, and driving on a suspended license. 
How Red Light Cameras Benefit Auto Accident Claims 
You are no doubt annoyed if you see the flash and know that a camera caught you violating the law, but you will take a different opinion if you were involved in an accident caused by a motorist speeding through a red light or stop sign. That driver will receive a ticket, but he or she has also provided you with critical proof when you seek compensation. These claims are based upon negligence, which means you need to show that the at-fault motorist breached the duty to drive safely.
Running through a red light is unlawful, and it also demonstrates a failure to comply with this legal obligation. This proof is credible evidence that supports your claim to recover monetary damages for your injuries.
Trust Your Claim to Our Oakland Car Accident Attorneys 
If you were injured or lost a loved one in a red-light running collision, it is important to reach out to our team at Venardi Zurada, LLP right away. We can explain your legal remedies and get started on a strategy after reviewing your situation, so please contact us to set up a no-cost case evaluation. Our car accident lawyers are happy to meet with you at our offices in Oakland or Walnut Creek, CA.
Resource:
iihs.org/topics/red-light-running#:~:text=Red%20light%20runners%20cause%20hundreds,by%20the%20red%20light%20runners