6 California E-Scooter Traffic Laws ALL Road Users Should Know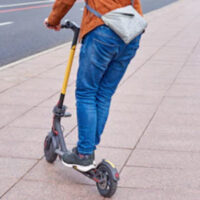 E-scooters are a convenient, speedy, affordable way to get around California's Bay Area, whether you rent through a sharing service or own your vehicle. Despite the fact that these electric scooters are new on the scene, lawmakers have made it clear that traffic regulations apply to them. The Driver Handbook published by the California Division of Motor Vehicles (DMV) includes numerous provisions and restrictions on operating e-scooters on streets, in traffic, on sidewalks, and designated bike lanes. There are also rules for specific riders and road conditions.
It is clearly essential for e-scooter operators to know these traffic regulations, but drivers of cars, trucks, and motorcycles – as well as bicycle riders and pedestrians – should also be aware of them. Any road user could put others at risk, so you should contact an Oakland e-scooter accident lawyer if you were hurt. However, the following traffic laws are important. 
Age Limits and Licensing: California law requires all individuals who operate an e-scooter to have either a driver's license or learner's permit. This mandate has the effect of creating an age limit, so no one under 16 years old can ride an e-scooter on the public way.
Helmets: The traffic regulations also set an age restriction on helmet use, so all minors must wear one while operating an e-scooter. With the age limits in place, this means 16- and 17-year-olds need to don a helmet.
Designated Bike Lanes: When there are marked lanes for bicycle riders, e-scooter operators are required to use them. Designated bike lanes are located at the far right of the roadway, separated by a solid white line, and usually have a bicycle symbol in paint. 
Speed Limits: There are restrictions on speed, though many e-scooters do not reach the limit because of traffic conditions and the abilities of the vehicle. You cannot exceed 15 miles per hour on an e-scooter. 
Making a Left Turn in Traffic: If you want to turn left, there is quite a process required under California traffic laws for e-scooters:
Maneuver the e-scooter to the right of the roadway.
Come to a stop at the intersection where you plan to make a left.
Dismount the e-scooter and walk across the road on foot.
Driving Under the Influence of Alcohol (DUI): Yes, you can get arrested for drunk driving when on an e-scooter. Just as with a DUI in a motorized vehicle, there will be criminal charges as well as a suspension of your driver's license. Of course, impairment also puts you at serious risk of collisions. 
Set Up a Consultation with an Oakland E-Scooter Accident Attorney
As an e-scooter operator, it is important to know these traffic laws – and just as critical to realize that not all road users are familiar with them. If you were injured in an e-scooter crash, please contact Venardi Zurada, LLP right away. We can schedule a complimentary case evaluation at our offices in Oakland or Walnut Creek, CA. After we review the details of your case, we can determine next steps.
Source:
dmv.ca.gov/portal/handbook/california-driver-handbook/