How Unbalanced Loads Lead To Serious California Truck Accidents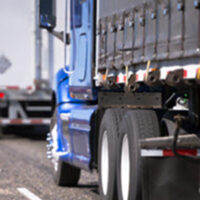 Collisions involving large commercial trucks are the deadliest tragedies that occur on California roads, but they thankfully comprise a small percentage of total crashes. The California Highway Patrol (CHP) reports that truck accidents account for 9 percent of the total fatal incidents statewide and just 3.4 percent of all injury-related collisions. Still, around 375 individuals lose their lives and 97,000 are hurt in crashes with 18-wheelers, semis, tractor-trailers, and other large trucks every year.
The first, and often correct, assumption with truck collisions is that the operator caused the incident through negligent acts. However, there may be other contributing factors, and a common one is the careless loading and securing of cargo. You might be surprised at how a seemingly minor detail could lead to devastating consequences. Fortunately, it is still possible to recover compensation, and an Oakland truck accidents lawyer can assist with claims based upon unsecured loads. An overview is also helpful.
Risks with Unbalanced Loads 
There are two ways improperly loaded cargo creates a threat to motorists:
When cargo is loose, unsecured, or imbalanced, the uneven weight disbursement can cause the trailer to swerve and veer separately from the tractor of the semi. The most common types of truck accidents that occur under such circumstances are jack knives and rollovers, where the operator loses control. Other collisions are the result of loose cargo that falls off the trailer. Building materials – and even livestock and automobiles – may be dumped.
In the event of a crash, unsecured cargo can also make the devastation worse. Materials that are already loose can become dangerous projectiles upon impact, causing chain reaction crashes that draw numerous vehicles into the fray. Plus, when a truck is hauling hazardous materials, the risk of fire, explosions, burns, and exposure to chemicals is extreme.
Potential Parties with Cargo-Related Truck Crashes
 Negligence is behind accidents caused by truck operators, but this theory of liability also applies when parties besides the driver are at fault. To prevail in a negligence-based claim, you must prove that the responsible person or entity failed to exercise reasonable care. You must also have evidence showing that the crash was the result of this breach, and that you suffered losses because of being hurt.
There are numerous parties that may have worked to load the trailer on an 18-wheeler, so you may have grounds to pursue:
A warehousing company;
The manufacturer or packager;
Logistics companies;
Shippers; and,
Many others.
Note that you can still seek monetary damages from the truck driver if there was negligence involved with operating the rig.
 Our Oakland Truck Accident Attorneys Will Pursue Those Responsible
This information is useful for explaining your rights, but it is important to retain skilled legal representation for any truck crash claim. Venardi Zurada, LLP is experienced in dealing with trucking companies and other large corporations, so please contact us to learn how a truck collision lawyer can help. We can schedule a no-cost case evaluation at our offices in Oakland or Walnut Creek, CA.
Source:
chp.ca.gov/programs-services/services-information/switrs-internet-statewide-integrated-traffic-records-system/switrs-2017-report