"Black Box" Evidence in California Car Accident Cases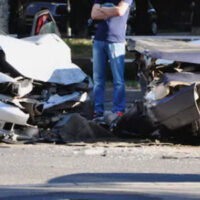 Traditional evidence is useful in proving your rights as the victim of a California car accident, but it can only go so far in some cases. Many times, the statements of drivers and passengers will be self-serving as they seek to blame the other motorist; in other cases, there may be difficulties in gathering credible evidence at the scene. If you were hurt or lost a loved one in an auto crash, you might feel helpless about the lack of proof you have to support your claim for compensation.
You may be relieved to know that there may be other options to fill the gaps where proof is weak. Most recent automobiles on the road today are equipped with an event data recorder (EDR) that can give you an edge in proving your right to compensation. You can trust your Oakland car accident attorney to make the best use of this information, but some basics may be helpful.
How EDRs Work: According to a description from the National Highway Traffic Safety Administration (NHTSA), an EDR is a device that captures an automobile's technical information and operator actions in the moments before, during, and after a crash. It functions similarly to the flight data recorders that have been installed on commercial aircraft for decades – familiarly known as "black boxes."
Today, EDRs are mandatory on all passenger vehicles manufactured in the US. The technology can record numerous functions, features, and other data relevant to a car accident, including: 
The vehicle's speed;
Acceleration and deceleration as the driver applies and releases the gas pedal;
Brake application;
Steering angle; and,
Many other types of information.

Using Black Box Data to Support Insurance Claims and Lawsuits: The data captured by a vehicle EDR can be crucial in an auto collision because it avoids the classic "he said-she said" allegations that are tossed around by the occupants of the respective vehicles. Plus, even in the absence of biased claims, anyone who was involved in the crash or observed it may not recall key details over time.
Unless there are technological defects that affect its functions, the EDR captures data that can be used to determine fault. While one driver will deny that he or she was speeding, the black box records the exact miles per hour. If there are claims that you were responsible for causing the collision, information contained within your EDR may also disprove the allegations. This benefit is important considering California follows the rule of contributory negligence, which may reduce your compensation if there is evidence that your own negligence was a factor in causing the collision.
Our Oakland Car Accident Lawyers Maximize Use of Black Box Evidence 
Electronic information in a vehicle's black box can be crucial in a California auto collision claim, especially when you have an attorney to help gather other solid evidence and develop a legal strategy. To learn how our Oakland car accident lawyers can help recover the compensation you deserve, please contact Venardi Zurada, LLP to set up a no-cost consultation at our offices.
https://www.vzlawfirm.com/how-right-of-way-rules-affect-california-auto-collisions/