ATV Accidents in Oakland, CA: Statistics and Safety Tips to Avoid Injury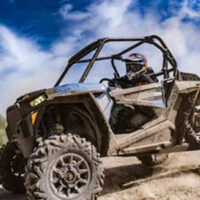 While many people focus on the entertainment value and adrenaline rush of going off-road, Californians put their all-terrain vehicles (ATVs) to use in many other ways. These vehicles are convenient and powerful for getting around larger properties, they can be used to haul materials, and they take the backbreaking work out of landscaping projects. However, there is another side of the coin when it comes to the danger involved with riding ATVs. According to Motoshark, an online source for buying, safety, and other ATV-related topics, injuries are on the rise as their popularity gains. Over the last 30 years, the number of injury-causing accidents on three- and four-wheelers increased by more than 50 percent.
As is the case with many activities, you are in a better position to avoid collisions when you are armed with a few safety tips about riding ATVs. You can trust an Oakland ATV accidents attorney for assistance with the legal process, but an overview of the statistics may help you understand the dangers.
Statistics on ATV and Off-Road Vehicle Collisions: Additional data on the frequency of ATV accidents and injuries to victims may demonstrate the risks involved with off-roading:
From 1982 to 2009 there were almost 10,300 people killed in ATV collisions.
Younger individuals are often victims in off-road vehicle crashes, despite the fact that they make up just 15 percent of all riders. Around one-quarter of those killed or injured are people under 16 years old, with the median age being 12.8 years old.
Every year, around 107,000 individuals seek treatment in emergency rooms for injuries related to ATV crashes.
Though these vehicles are meant for off-road travel, the majority of ATV injuries are incurred in accidents on paved roads or highways.
A whopping 75 percent of all off-road vehicle accidents result in debilitating spinal cord or traumatic brain injuries (TBI). Other areas of the body impacted by ATV collisions include the upper extremities and neck.

Protect Yourself with these ATV Safety Tips: At the outset, you should always wear a helmet when operating any three- or four-wheeler; in addition to protecting your head, it is the law in California for ALL riders to wear one. In addition, note that ATVs are not permitted on roadways except when crossing. Other safety tips include:
Do not carry a passenger unless your ATV is intended for more than one person;
Parents should always supervise children riding off-road vehicles, and ensure that ATVs are not treated as toys;
If possible, take an ATV safety course; there are numerous online options;
Do not tow people or materials unless your ATV is equipped with proper gear; and,
Never ride when under the influence of alcohol or drugs.
Trust an Oakland ATV Accident Lawyer for Legal Help 
If you were injured in a three- or four-wheeler collision, it is important to work with experienced legal counsel to recover compensation from the at-fault party. For more information on how we can help with the process, please contact Venardi Zurada, LLP to set up a free consultation at our offices.
Resource:
motoshark.com/atv-accidents-injuries-statistics/