Answers to Common Questions About Ridesharing Accidents in California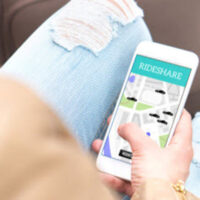 Legal issues and controversy have surrounded California ridesharing services over the last few years, as the business model of these companies continues to disrupt the taxi industry and traditional transportation systems across the US. Anyone who uses or drives for Uber or Lyft may be pleased to know that transportation network companies (TNCs) have succeeded in fighting back against the government and other opponents – at least for the time being. According to a February 3, 2021 article in the San Francisco Chronicle, ride-hailing services are here to stay after a failed challenge by union officials.
Unfortunately for Bay Area motorists, many safety issues remain. TNC drivers rely upon and constantly interact with their mobile app while working to boost profits and maximize ridership, increasing the potential for serious accidents. If you were hurt in an Uber or Lyft collision, you probably have numerous questions about your rights and the legal process. An Oakland car accident attorney can provide specifics, but some answers may be helpful.
How is fault determined in Uber or Lyft crash? Liability for an accident does not change just because the incident involved a ridesharing service. It is still necessary to prove that the crash was caused when a negligent motorist breached the duty to drive safely. You will need solid proof in these areas to establish your right to compensation. 
Who can I pursue for damages after a ridesharing accident? Based upon the above description of fault, you may pursue the TNC driver if you were hurt:
While you were riding as a TNC passenger
As the driver of another car
While riding your bicycle or walking

In addition, note that you could have a claim against a third-party motorist that struck you while being transported as an Uber or Lyft passenger. 
How does the mobile app affect liability? Though a motorist or TNC driver may be negligent, you will usually pursue at-fault parties through their respective insurance companies. The Uber or Lyft app is critical because you are covered for injuries only when your driver is logged in – either while transporting a passenger, on the way to pick up a rideshare user, or searching for customers. 
What is the first step in the claims process? You must file an insurance claim to recover compensation, so the first step in the process goes back to the Uber or Lyft app. If the TNC driver is NOT logged in, he or she has the same status as any other motorist on the road; you will file a claim under that person's policy. If logged into the app and providing ridesharing services, your claim falls under the TNC's insurance coverage – which is up to $1 million.
Trust an Oakland Uber/Lyft Accident Lawyer to Protect Your Rights 
If you were injured in an accident involving a ride-hailing service, your rights and legal remedies depend upon numerous, complicated factors. To learn more about your options, please contact Venardi Zurada, LLP to set up a free consultation. We can meet with you at our offices in Oakland, and Walnut Creek, CA to learn more about your story.
Resource:
sfchronicle.com/business/article/Union-backed-Prop-22-challenge-rejected-by-15922771.php