Trampoline Accidents in California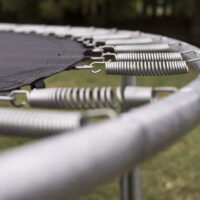 The exhilaration of jumping, flipping, and flying through the air is appealing to people of all ages, but trampolines have come under fire in recent years because of the high risk of injuries. According to online insurance marketplace Policygenius.com, around 100,000 seek medical treatment at emergency rooms every year because of trampoline-related injuries. It is estimated that approximately 2 people die because of trampoline accidents, a small but still disturbing number when you consider the fact that the equipment is intended for fun.
If you or your child was injured in a trampoline accident, California premises liability laws apply. You may qualify to recover compensation from the at-fault party if you can prove the owner did not exercise reasonable care with respect to the condition of the trampoline. The legal process can be challenging, so it is crucial to get legal help from an Oakland premises liability lawyer. You can also read on for some information about injuries from trampolines.
 Statistics on Trampoline Accidents: You expect that accidents involving children are a common threat, but information on trampoline injuries exposes some disturbing trends:
Almost 4 percent of all bone fractures to children involve trampoline accidents.
Up to 39 percent of all trampoline injuries are falls, but approximately 20 percent involve a victim striking the springs or frame.
The most common injuries on trampolines are lower and upper extremities, at around two-thirds of all bodily harm. Almost 15 percent of trampoline injuries involve concussion or other head injury, while 8 percent are neck injuries.
Over half of all trampoline injuries are soft tissue injuries, such as whiplash, and herniated or bulging spinal discs.
Less than 1 percent of all victims of trampoline accidents suffer permanent neurological trauma, including brain damage, complete spinal cord injury, and traumatic brain injury (TBI).
 Potential Parties for Accident Claims: California premises liability laws are based upon the concept of negligence, in which a party can be accountable for failing to keep the property safe. In the context of trampoline accidents, potential parties may include:
Homeowners who do not secure a trampoline with locks, gates, and other measures to prevent access by children; and,
Owners of trampoline parks who do not maintain the equipment properly, make repairs, and inspect trampolines for signs of disrepair.
 To pursue a premises liability claim, you will typically file a claim with the trampoline owner's insurance company and attempt to settle. If the insurer will not pay fairly, you will need to file a lawsuit in court. Through these remedies, it is possible to recover amounts for medical bills, pain and suffering, and emotional distress.
 Contact Our Oakland Premises Liability Attorneys for More Information
It is reassuring to know that you have options after being injured in a trampoline accident, especially considering the threat of serious head and neck trauma. To learn how Venardi Zurada, LLP can assist with the legal process, please contact our offices in Oakland or Walnut Creek, CA. We can schedule a free consultation to review your situation and discuss next steps.
Source:
policygenius.com/homeowners-insurance/trampoline-injury-statistics/