Tips to Avoid Boat Accidents When Towing Water Sports in California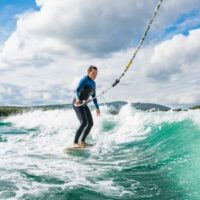 Boating is exhilarating fun, but many thrill-seekers in California get even more adventurous by hopping off the vessel and onto towed water sports. While these activities might have started off with waterskiing, tow sports now encompass tubing, inflatables, wakeboarding, knee boarding, and many others. Unfortunately, statistics from the California Division of Boating and Waterways reveal the risks with towed water sports. There are almost 850 reportable accidents statewide every year, and around 45 of them involve towing a rider on this equipment.
Boating accidents involving towed water sports are preventable, but they often happen because of negligence. Careless acts by the operator towing, as well as other boaters sharing the body of water, can lead to fatalities and serious injuries. California laws provide victims with remedies, so you should consult with an Oakland boat accident attorney to learn more about them. Some tips for boaters and riders may also help avoid tragedies.
Ensure Safety with Towed Water Sports: There are risks when riding behind a boat, and towing equipment requires the operator, the rider, and other boaters in the vicinity to follow safety tips.
A rider must always wear a US Coast Guard approved personal flotation device (PFD), but pay close attention to how the design helps or hinders your activities. The basic, bright orange unit that goes over the head may restrict movement.
Always follow the manufacturer's instructions on use of towed water sports.
Inspect equipment before heading out to ensure there is proper air pressure in inflatables and the connections for all fittings are secure.
Know the area where you will be towing riders on water sports, especially water depth, docks, piers, and roped off swimming areas.
Never enter or exit the water unless the boat's engine is off.
Make sure to have a spotter watching the rider, who can communicate signals to the operator and alert them about falls.
After enjoying towed water sports in salt water, make sure to rinse everything with fresh water. Salt can cause faster wear and tear on equipment.
Do not ride towed water sports or operate a boat while under the influence of alcohol or drugs.
 Potential Parties in Boating Accidents: If you are involved in an on-the-water incident caused by another boater, California laws of negligence apply. You can recover compensation from the at-fault vessel operator if you can prove that the accident happened because he or she failed to exercise reasonable care. However, your claim may be against the person operating the boat while you were riding, so potential parties could include people you know.
Our Oakland Boat Accidents Lawyers Will Explain Remedies
Towed water sports are thrilling, but negligence by boaters can quickly turn a fun day on the water into a tragedy. To learn more about your options, please contact Venardi Zurada, LLP. We can set up a complimentary case review with a boating accident attorney who will provide details. Our team serves victims throughout the Bay Area from offices in Oakland or Walnut Creek, CA, so we are happy to help.
Source:
dbw.parks.ca.gov/pages/28702/files/2016DBW_AccidentStats_Ca_051217.pdf