How A Lawyer Helps With A California Boat Accident Claim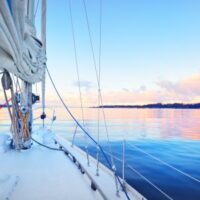 You might expect there to be an increase in the number of boating accidents during 2021 after the COVID lockdowns, so a drop in these incidents is a welcome surprise. The National Safe Boating Council (NSBC) reports that:
There were 658 boating-related fatalities last year, a decrease of around 14 percent from 2020.
The total number of boat accidents went from more than 5,260 to less than 4,440.
There were 17 percent fewer injured victims in boating mishaps.
Unfortunately, many of the same causes and contributing factors remain the same. Alcohol again takes the #1 spot, while operator distractions, inexperience, failure to keep a lookout, and speeding round out the list. The top cause of death is also consistent: 81 percent of victims drowned and, of these, 83 percent were wearing a proper life jacket.
The trends are encouraging, but boating crashes will continue as long as there are negligent operators on California waterways. Victims have legal options under state personal injury laws, but it is critical to retain a representation for the complicated process. You gain an advantage when you have an Oakland boat accident attorney to help with:
Gathering Evidence 
Most accident claims are based upon negligence, which requires you to prove that the incident occurred because the at-fault party failed to exercise reasonable care when operating the watercraft. An in-depth investigation is necessary to obtain essential evidence. Your lawyer is knowledgeable about strategies for collecting proof and will work with private investigators as necessary.
 Preparing Insurance Claims Forms 
The first step in the legal process is filing an insurance claim, in which you will need to provide information on:
Fault by the insurance company's insured, i.e., the negligent boat operator; and,
The nature of your injuries and extent of your losses.
As such, it is usually not enough to fill out insurance claim forms. You must also include supporting documentation and evidence proving that you are entitled to compensation, and your attorney will handle the details. 
Settlement Negotiations 
In most cases, an insurer will not simply pay out what you request. The company will review the evidence, conduct its own investigation, and make an offer to settle your boat accident claim. Having legal counsel to represent you during settlement discussions is critical, as you may not realize what your claim is worth. You risk leaving money on the table, whereas your lawyer knows what is fair based upon the legal concepts and experience.
Filing a Lawsuit in Court 
If you cannot reach an agreement through settlement negotiations, you must sue the at-fault boat operator. Litigation involves:
Preparing the complaint;
Serving the defendant;
Discovery and depositions;
Court hearings, appearances, and motions; and,
A trial on the merits.
These are all tasks you should entrust to an experienced attorney who will protect your rights throughout the proceedings.
Discuss Your Remedies with Our Skilled Oakland Boat Accident Lawyers 
For additional information about your rights and remedies, please contact the offices of Venardi Zurada, LLP in Oakland, or Walnut Creek, CA. An experienced attorney can advise you after learning more about your circumstances.
Source:
safeboatingcouncil.org/2021-recreational-boating-statistics-available/#:~:text=From%202020%20to%202021%2C%20the,percent%20(3%2C191%20to%202%2C641)