Common Causes Of Boating Accidents In California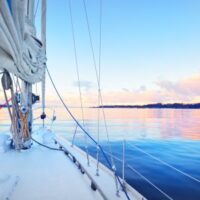 Boating is a popular activity throughout California, whether you enjoy powerboating, sailing, paddling a canoe, kayaking, or skimming the waves on a personal watercraft. In total, there are more than 703,250 registered vessels in the state, comprising 5.9 percent of the total boats registered nationwide according to recreational boating statistics from the US Coast Guard (USCG). The high volume of watercraft navigating California's waterways also means a higher risk of boating accidents. There are almost 4,450 crashes across the US every year, and 475 of them occur in the state. Around 40 people are killed and thousands more are injured in California boat crashes annually.
There are many different factors that cause and contribute to boat accidents, and being aware of them can reduce the risk. However, you cannot always prevent these incidents, so you should retain a knowledgeable Oakland boat accident lawyer to assist with your legal remedies. The top causes of these incidents are:
Operation of Vessel: There are numerous specific causes within the umbrella category of operator error, i.e., negligence. Overall, failure to properly operate the boat results in almost 2,600 accidents annually, leading to 265 fatalities and 1,800 injured victims. The specific factors include:
Operator inexperience in handling a boat;
Operator inattention, possibly by texting or talking on the phone;
Improper lookout and failure to avoid an object; and,
Excessive speed.
In addition, alcohol use tops the list of boat accident causes. Impairment affects the operator just as it does drivers of motorized vehicles.
 Failure of Equipment: A second leading category for boat accident causes involves defective equipment, a factor that could lead to liability for parties other than the operator. Machinery failure is the top cause of accidents linked to equipment, and it may occur because of manufacturing or design defects. In such a case, the manufacturer may be held accountable.
In addition, the USCG report includes data showing the high number of rented boats that are involved in accidents. If failure of equipment was the cause, the outfitter or rental company could be liable for negligence. 
Other Notable Statistics: Additional figures about boat accidents are also informative:
More than 80 percent of victims in fatal boat collisions were killed by drowning. Of these, 83 percent were not wearing a PFD.
The top vessel types involved in boating accidents are open power boats, personal watercraft, and power boats with cabins.
The number one boat crash type is collisions with other recreational vessels, striking a fixed object or falling overboard.
December is the deadliest month for boat crashes, followed by January and April. 
Count on Our Oakland Boat Accident Attorneys to Protect Your Rights
 If you were injured in an incident on the water, you may be entitled to recover compensation for many types of losses. Venardi Zurada, LLP is ready to support your legal needs, so please contact our offices in Oakland or Walnut Creek, CA today. We can set up a complimentary case evaluation with a California boating accident lawyer who will describe your options.
Source:
uscgboating.org/library/accident-statistics/Recreational-Boating-Statistics-2021.pdf