Questions Oakland Car Accident Victims Should NEVER Answer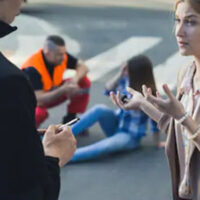 Like every other US state, California requires motorists to carry certain minimum insurance to cover the losses a policyholder may cause in an auto collision. The Department of Motor Vehicles (DMV) mandates at least $15,000/$30,000 in bodily injury liability coverage or other "financial responsibility," which compensates a victim for medical costs, lost wages, and pain and suffering. As such, if you were hurt in a motor vehicle crash, your first step in the legal process will usually be filing a claim with the at-fault driver's insurance company.
Of course, to protect its own financial interests, the insurer will conduct an investigation before paying out your claim and it will eventually come to you. The claims adjuster will be looking for reasons to deny payment, and you could inadvertently provide information that harms your interests. You can avoid issues by retaining an Oakland car accident attorney to take the lead in dealing with an insurer, but you can protect your interests by not answering the following questions posed by the insurer.
Can I record this conversation? The answer is always NO.   A recorded conversation with an adverse insurance company is essentially a free deposition, without any protection for you, with an adjuster trained to put you in a negative light.
How badly were you hurt? You should decline to provide information on this topic for three reasons:
All of the information regarding your physical injuries will be contained with your medical records, which can speak for themselves when the time is right to release them.
Unless you are a doctor, it would be inappropriate to offer a diagnosis or prognosis.
You might still be receiving medical treatment, which means it is premature to provide details on the severity of your injuries. 
What happened with the collision?  One of the easiest ways for a claims adjuster to deny payment is if they can argue that their insured was not at fault.  Their goal and training in asking you these question is to unjustly shift some or all of the blame onto you reducing the amount of compensation you could receive. 
What were you doing just before the crash? This question is another way of trying to find fault on your part.  The insurance company will use any facts you give to them to draw negative inferences against you.  If you tell them that you were at a restaurant, they will say you were drinking, if you tell them that you were going to work, they will say you were speeding, if you were coming back from work, they will say you were tired.  There is an appropriate time to provide this information but not in an unprotected conversation with an adverse insurance company.
Trust Our Oakland Car Accident Lawyers to Handle Insurers
This information should help you navigate a short conversation with a claims adjuster, but you will need experienced legal counsel for the claims process. To set up a free consultation with a member of our team, please contact Venardi Zurada, LLP at our offices in Oakland or Walnut Creek, CA.
Resource:
dmv.ca.gov/portal/vehicle-registration/insurance-requirements/