TBI From An Accident: Know When To Go To The ER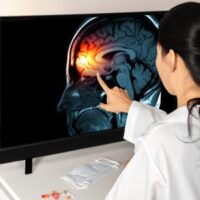 Traumatic brain injuries (TBI) may result from trauma to the head or even violent movement of the head in a whiplash situation. The US Centers for Disease Control and Prevention (CDC) describes TBI in terms of mild, moderate, and severe, and the vast majority are caused by accidents. Around 64,000 people are killed and another 223,000 are hospitalized because of head injuries, whether from auto collisions, slip and falls, and related incidents.
Because TBIs can range considerably in terms of severity, it can be challenging for victims to know when to seek medical care. The CDC specifically states that ALL victims should seek medical evaluation after a head injury, but there are some that require emergency care. It is important to consult with an Oakland traumatic brain injury attorney as soon as your health stabilizes, and some guidance on signs of severe TBI is useful.
Symptoms That Sound the Alarm 
One of the key concerns with TBI is that there could be bruising in the brain, a skull fracture, swelling, a blood clot, or bleeding in the brain. These signs are not outwardly visible, sometimes are even invisible to diagnostic testing, but are quite serious. Head to the ER immediately if you or another person experiences the following symptoms:
A headache that worsens and is not eased through over-the-counter meds;
Numbness, lack of coordination, and muscle weakness;
Nausea and continuous vomiting;
Uneven tracking of eyes and disparities between pupil sizes;
Loss of consciousness for more than a minute;
A catatonic state or inability to be awakened;
Convulsions or seizure;
Angry outbursts, confusion, or disorientation; and,
Slurred speech.
At the ER, health care providers can conduct evaluations and tests to determine the extent of the TBI and potential damage to the brain.
 Why Proper Medical Care is Critical
 The long-term effects of TBI can be devastating, leading to loss of independence, reliance on others for care, and even placement in assisted living. With severe head injuries, every second counts so that treatment can begin. The chance of making a full recovery increases, but seeking proper care can also prevent additional damage to the brain.
In addition, there are also implications for your rights when it comes to medical treatment for TBI. The symptoms described above are serious and should motivate you to head to the ER, but keep in mind that you harm your interests with delays. An insurance company will always try to find reasons to not pay your claim. Failing to get appropriate care, or to get that care promptly, will give the insurer the excuse to falsely insist that a delay in treatment meant that your TBI was not serious.
Speak to an Oakland TBI Lawyer About Legal Remedies
You know the importance of the brain, so do not put your health and well-being in jeopardy by waiting to get medical care. For more information about your options after a TBI, please contact Venardi Zurada, LLP to set up a free consultation at our offices in Oakland or Walnut Creek, CA. After learning more about your details, we can advise you on the legal process.
Source:
cdc.gov/traumaticbraininjury/get_the_facts.html