California Traffic Laws You Did NOT Know Bicycle Riders Must Follow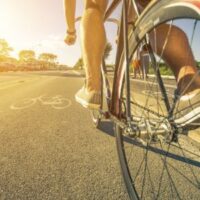 Knowing the lack of a protective barrier a bike offers and the size differential compared to motorized vehicles on the road, you are probably not shocked to learn that bicycle accidents lead to serious injuries. In fact, according to the California Highway Patrol (CHP), approximately 170 bike riders are killed and another 11,500 are injured in collisions every year. Many of these tragedies are clearly the result of negligence, but fault can be complicated in bicycle accidents. A key factor is misunderstanding about the laws that riders must follow, and confusion can impact both motorists and bicyclists.
As a bike rider, it is crucial to know the rules of the road for safety reasons and your legal rights. Violations could affect your claim under California's comparative negligence law, and an Oakland bicycle accidents attorney can explain the details. An overview on the traffic laws for bicyclists may also be helpful.
Traffic Controls: Stop signs, traffic lights, lane markings, and other traffic controls apply to ALL users of the road, so bicycle riders violate the law by noncompliance. Always come to a complete stop when required, do not turn where prohibited, and use arm signals to indicate turns.
Roadway Position: Bicyclists should always ride in the same direction as traffic, and on the right side of the road. The only time you might deviate from this position is when making a left turn, in which case you can proceed safely across lanes to get into position. These requirements also apply when biking on a one-way street.
Use Designated Bike Lanes: One factor that may impact your roadway position when riding a bike is the presence of designated traffic lanes for bicyclists, which are appearing more often on California roads. You are required to ride in these lanes, but keep in mind that:

You can exit the bike lane to engage in a maneuver if it is safe to do so and you provide proper signals.
State laws allow you to leave the bike lane to turn, pass another bike rider, or avoid a pedestrian or motorized vehicle.

Encounters with Pedestrians: It is the duty of the person on foot to use crosswalks where present, but bike riders are required to yield right of way. When encountering a pedestrian in a crosswalk, consider yourself a motorist: Stop and allow the walker to safely pass.
Nighttime Bike Riding: When biking after dark, you or your bicycle must be equipped with a white light that is visible from 300 feet ahead. There are also laws on installing red, white, or yellow reflectors.
Trust Our Oakland Bicycle Accidents Lawyers to Guide You
At Venardi Zurada, LLP, our team is prepared to tackle the comparative negligence issues that may arise in connection with traffic laws for bike riders. To learn how we can assist with the legal process, please contact our offices in Oakland or Walnut Creek, CA. We can schedule a no-cost case evaluation to review your situation and determine how to proceed.
Resource:
chp.ca.gov/programs-services/services-information/switrs-internet-statewide-integrated-traffic-records-system/switrs-2017-report