When To File A California Survival Action V. Wrongful Death – Or Both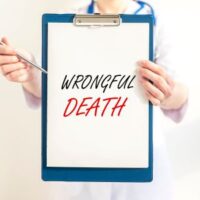 When someone dies in an accident, the survivors he or she leaves behind are also victims of the at-fault party's negligent acts. They suffer emotionally and financially, which is why California law provides for a wrongful death action. Surviving loved ones can recover compensation for the various ways the fatality affects their lives. However, there is also a California statute on survival actions. These are similar in some ways to wrongful death claims, particularly proving fault and the legal process for filing a claim.
However, the distinctions between wrongful death and survival actions are important. There may be reasons to pursue one or the other claim and, in many situations, you might file both. You can rely on your Oakland wrongful death lawyer to handle strategy and ensure you maximize compensation opportunities. Some background information is also helpful.
Comparing Survival Actions and Wrongful Death 
The basic distinction between these cases involves who was harmed by the negligent, reckless, or intentional acts of the at-fault party. Survivors pursue compensation in a wrongful death claim for how the fatality affects their own lives, so they can recover losses related to consortium, guidance, love, emotional support, and other contributions.
A survival action is based upon how the deceased victim was affected by the fatal accident. Because that person is no longer alive, the personal representative of the decedent's estate steps in the shoes as the "victim." The estate can seek amounts for:
Medical bills;
Lost wages; and,
The deceased victim's pain and suffering, after a new law became effective in 2022.
It is possible to recover amounts for burial and funeral costs through a wrongful death OR survival action, depending on who paid these costs.
 Proving the Underlying Claim
 Though it is important to determine whether you pursue one or both types of lawsuits, keep in mind that there is a key requirement. In any California personal injury matter, you still need to prove the basis of liability. Typically, you will need to establish the essential elements of negligence: The at-fault party caused the accident by failing to exercise reasonable care.
Strategies with Fatal Accident Claims 
Surviving loved ones will almost always pursue a wrongful death claim, assuming they have standing to sue under California law. The estate, through the personal representative, might opt to seek damages through a survival action if:
The conduct that led to the fatality was intentional or reckless, in which case it is possible to seek punitive damages.
There was a significant amount of time that passed from the date of the accident to the victim's death, increasing the potential for pain and suffering. 
Our Oakland Wrongful Death Attorneys Will Pursue All Available Remedies 
The differences between wrongful death and survival actions may seem subtle, but they are important when it comes to your rights. For additional information on your legal options after a fatal accident, please contact Venardi Zurada, LLP. We are happy to schedule a no-cost case review with a skilled wrongful death lawyer. Our team serves the Bay Area from our offices in Oakland or Walnut Creek, and we look forward to working with you.
Source:
leginfo.legislature.ca.gov/faces/codes_displayText.xhtml?lawCode=CCP&division=&title=3.&part=2.&chapter=4.&article=3