Should I File A Wrongful Death Claim Or Survival Action After A Fatal Accident?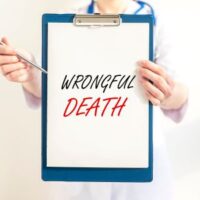 Accidents are common in the US and California and, fortunately, the majority of them cause injuries to victims who make a full recovery in time. However, these incidents can also lead to devastating results. According to the US Centers for Disease Control and Prevention (CDC), accidents are the No. 3 cause of death nationwide, responsible for killing more than 173,000 every year. Whether you lost a loved one because of a motor vehicle crash, slip and fall, medical malpractice, or other tragedy, the ramifications are extreme. In addition to grief, the financial impacts and other losses can be overwhelming.
You might be aware that you have legal options after a fatal accident, but there are actually two remedies for surviving family members: A wrongful death claim and a survival action. They are distinct in terms of the underlying legal concepts, but you can rely on an Oakland wrongful death lawyer to handle all of your needs after a fatal accident. Answers to FAQs are helpful for understanding the basics. 
What is the difference between wrongful death and survival actions?
While both relate to accidental fatalities, the key distinction in these cases is who is eligible to recover damages. As such:
A wrongful death lawsuit aims to compensate survivors for their losses after a family member dies.
A survival action is intended to compensate the deceased person for certain losses, and this is accomplished through his or her estate. Though the victim was killed, there are rights that "survive" that person.
Who is entitled to sue after a fatal accident?
In a survival action, it is the personal representative for the estate who will sue the at-fault party. This may be someone named in a will or appointed by a probate court. A wrongful death suit, being for the benefit of survivors, may be brought by:
A surviving spouse or qualifying domestic partner;
Children, both minors and adults;
Grandchildren, if the parent/child of the deceased passed away;
Minor children who were dependent upon the decedent for at least half of their financial support; and
Anyone who would receive a portion of the decedent's estate if that person did not have a will.
What damages can I recover in a survival action or wrongful death claim?
The survival action is limited to recovering for losses the deceased experienced from the time of accident to the moment of death. Medical costs and lost wages are examples. Because the focus in a wrongful death case is losses of the survivors, it may be possible to obtain amounts for:
Lost financial support;
Funeral and burial costs;
Value of contributions to the household;
Loss of love, guidance, education, and consortium. 
Set Up a Free Consultation with an Oakland Wrongful Death Attorney 
For answers to specific questions and personalized advice, please contact Venardi Zurada, LLP. We can set up a complimentary case assessment at our offices in Oakland or Walnut Creek, CA. Once our lawyers review your circumstances, we can advise you on strategies for both wrongful death claims and survival actions.
Resource:
cdc.gov/nchs/fastats/accidental-injury.htm