Horrific California Pedestrian Accident Should Prompt Safety Tips For Parents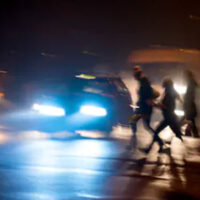 California Highway Patrol continues the search for a vehicle that fled the scene after causing a horrific pedestrian accident with multiple fatalities. News of the California pedestrian accident was first reported by NBC News Channel 4, in an article that identified the victims as fourteen and pre-teen girls who were out walking in the evening hours. Three individuals were pronounced dead at the scene, while the fourth was rushed to a local hospital. Her life-threatening injuries include a leg amputation, shattered bones in other limbs, and kidney and liver damage. Witnesses reported that the driver of the vehicle and a passenger shined a flashlight on the victims before fleeing on foot.
Unfortunately, pedestrian accidents are the fifth leading cause of unintentional fatalities for children aged 5 to 19 in the US. There is no question that the recent tragedy was the result of reckless cowardice, but parents and kids can discuss a few walking safety tips to reduce the risk of being involved in a deadly Oakland pedestrian accident.
Start by Teaching 
Your child looks to you for guidance in many of life's situations, so take advantage of teaching moments early to really emphasize safety tips as a pedestrian. Make sure your child understands to:
Look left, right, and then left again when crossing a street;
Make eye contact as a way to communicate with drivers when sharing the road;
Be alert around vehicles that are turning or reversing; and,
Never dart, run, or engage in horseplay around vehicles, whether they are parked or in operation.
A final teaching point deserves special mention, considering the lives of younger people revolve around their phones. Instead of a tip, make it a rule that portable devices are stowed in a pocket or purse when walking – and follow it yourself.
Basic Pedestrian Safety 
Another topic for a safety tip is knowing traffic laws and rules, which DO apply to all road users including pedestrians. Your kids should always use crosswalks, paths, and sidewalks if present, and only cross the street at intersections. They should also learn the basics of traffic controls when there is no 'Walk' sign to guide them.
Special Considerations 
Experts generally recommend that children under 10 years old be accompanied by an adult when crossing the street. Another important point is relevant to the recent hit and run pedestrian accident in California: Children walking at night trigger an additional visibility concern. As such:
If kids will be on foot after dark, plan ahead by making sure they are dressed in light or bright clothing.
Children can also carry a flashlight to be more visible to motorists.
Consider investing in activewear made with reflective fabric that gets the attention of drivers.
Set Up a Free Consultation with an Oakland Pedestrian Accident Attorney 
Walking safety tips go a long way, but you can trust Venardi Zurada, LLP to pursue your legal options after a pedestrian accident. To learn more about your rights, please contact us to schedule a complimentary case review at our offices in Oakland or Walnut Creek, CA.
Resource:
timesnewsexpress.com/news/newsusa/los-angeles/three-children-dead-fourth-hospitalized-after-hit-and-run-pedestrian-crash/