How Long Do I Have To Sue After A California Car Accident?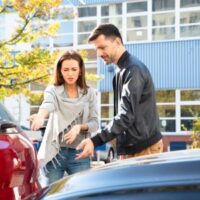 You may not have a legal background, but you are probably aware that there are time restrictions related to civil cases in California. These statutes of limitations exist to motivate plaintiffs to take action promptly, promote judicial efficiency, and reduce the potential for evidence to get lost over time – among other factors. For car accidents and other personal injury matters, California's statute of limitations is two years. You must file a lawsuit in court before it expires, or you will be barred from ever recovering compensation. There are some exceptions that toll or pause the statute of limitations, but they are rare.
At first glance, two years seems like a long time when you simply need to go down to the courthouse and file your documents. However, there are numerous tasks and activities associated with an auto crash claim which can put you up against the deadline. Your Oakland car accident lawyer will handle time management and planning for the lawsuit, but you should understand all you need to do before the statute of limitations expires.
 Manage Your Recovery 
If you did the wise thing by getting immediate medical attention for your injuries, you should continue with follow-up appointments and the plan of care established by health care providers. You cannot toll the statute of limitations while you recover, but you may be entitled to all medical costs you incur for treatment. It is in your best interests to follow the care plan to ensure you receive full compensation for your medical expenses.
Collect Evidence 
Your lawyer will assist with gathering the essential proof you need in two key areas for car accident claims:
The nature and severity of your injuries; and,
Negligence by the at-fault driver.
To prove negligence, you must show that the motorist caused the auto crash by failing to exercise reasonable care behind the wheel. Physical evidence at the scene of the collision is useful, such as photos of the damage to vehicles, intersection, weather, and traffic conditions. In addition, car accident attorneys often work with accident reconstruction specialists to assess fault in crashes. 
File an Insurance Claim 
California law requires all motorists to carry auto insurance, so you will be filing a claim with the at-fault motorist's insurer. You might expect to just fill out a few forms, but keep in mind that the company will conduct its own investigation. The insurer is trying to find ways to justify not paying, or offering a lowball counteroffer, so this process takes time. 
Settlement Discussions 
After investigating, the insurance company may offer to settle your claim by agreement. The clock on the statute of limitations is still ticking during settlement negotiations, so time is of the essence and you cannot afford to sleep on your rights. 
Discuss Your Rights with an Oakland Car Accident Attorney 
For more information on the statute of limitations for California traffic collisions, please contact Venardi Zurada, LLP to set up a no-cost consultation with a member of our team. We are happy to meet with you at our offices in Oakland or Walnut Creek, CA to discuss details.
Source:
leginfo.legislature.ca.gov/faces/codes_displaySection.xhtml?lawCode=CCP&sectionNum=335.1