Top Causes Of Spinal Cord Injuries In Children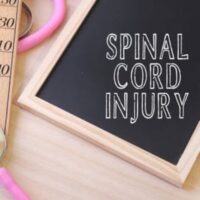 Children are active and inquisitive, so parents find themselves constantly reaching for bandages, ice, and tissues to wipe away the tears from minor injuries. However, some accidents can lead to serious bodily harm to major parts of the body. Injuries to the spinal cord are especially catastrophic because of its importance and crucial functions. Stanford Children's Health explains that the spinal cord is a bundle of nerves that transmits messages from the brain to the rest of the body; it also returns information from the skeletal system, internal organs, muscles, and skin back to the brain.
When a person suffers spinal cord injuries (SCI) in an accident, this messaging system is disrupted. A partial tear of the nerve bundle could impact certain bodily functions, but a complete tear can lead to paralysis or even death. California laws provide parents with options after an accident caused by negligence, so you should discuss legal remedies with an Oakland spinal cord injury attorney. Some information on SCI in children and tips for parents may also be helpful. 
Top Causes of Spinal Cord Injuries in Children 
Stanford medical professionals point out that SCI is a common cause of permanent disability and death in children. Kids, especially adolescents and teens, are known to play rough and injuries can result. Still, children often suffer SCI in accidents that are the fault of another person or entity. Examples include: 
Car and truck collisions with a negligent motorist;
Pedestrian and bicycle accidents;
Falls on the playground, at school, or park facilities;
Injuries from participation in sports; and
Accidents involving 4-wheelers and ATVs.
In addition, some SCIs are the result of trauma during labor. OB-GYNs might need to assist with a difficult delivery, either by guiding the infant down the birth canal or through use of a forceps or vacuum extractor. These methods can cause too much pressure on the spine, resulting in SCI birth injury. 
Tips for Parents 
It is terrifying to learn that your child suffered any kind of serious injury, so you could be overwhelmed and confused about what to do after an accident causes SCI. The immediate aftermath is important both for your child's health and legal interests. Some tips will help you through the chaos: 
Call 911 to get first responders on the scene.
You may not know the extent of the damage to the spine, so avoid moving your child unless necessary for safety.
Obtain contact information for all individuals, businesses, property owners, and other entities that were involved in the accident.
Avoid discussing details about the incident while still at the scene, and instruct your child to do the same.
Reach out to an attorney for help with the legal process, which may include an insurance claim and/or litigation to recover damages.
Our Oakland Spinal Cord Injury Lawyers Will Provide Legal Guidance 
To learn more about your rights and remedies after your child suffers an SCI, please contact the offices of Venardi Zurada, LLP in Oakland or Walnut Creek, CA. We can schedule a free case review to learn more about your circumstances and determine next steps.
Source:
stanfordchildrens.org/en/topic/default?id=acute-spinal-cord-injury-in-children-90-P02590