How Does Insurance Work For E-Scooter Accidents In California?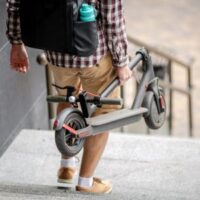 Convenient, affordable, and flexible, e-scooter rentals have become one of the most popular ways to get around the Bay Area for work, errands, and fun. The rest of the world has also realized the attraction of these handy vehicles, as shown by recent statistics on e-scooter sharing. During 2023, the global e-scooter sharing industry is predicted to reach almost $1.95 million. Revenue is forecast to grow annually, exceeding $3.1 million by 2027 as ridership increases. By the same year, the number of users is predicted to reach 134.7 million.
This growth in the industry might come as a surprise to those who are aware of the risk of e-scooter accidents. Users are surrounded by faster, larger, motorized vehicles, so they are exposed to serious injuries. Plus, e-scooter riders may also be at fault in collisions. These factors raise questions about insurance – how it protects your health and your financial interests. It is wise to discuss details with an Oakland e-scooter lawyer, but some information about insurance is useful.
Insurance from the E-scooter Sharing Company: When you open the app and book an e-scooter, you enter into an agreement with the company that includes several terms and conditions. Insurance is an important topic, so read the fine print. Most e-scooter sharing companies will pay for injuries that a user suffers in an accident, but only if the crash was not the operator's fault. The concept of fault can be blurry, so it is important to have evidence showing the other driver's negligence.
 Pursuing a Negligent Driver: If you were hurt in an e-scooter accident due to someone else's carelessness, you might be dealing with the at-fault motorist's insurer. Just like with the e-scooter insurance, you will need evidence showing that the other driver was to blame. Examples of negligence include:
Speeding;
Running red lights;
Drunk and drugged driving, and,
Failing to yield.
Defective E-Scooters: These vehicles go through significant wear as renters use and abuse them, often causing damage by dropping them in unsafe areas. E-scooter sharing companies rely on their telecommunications networks to notify them that repairs are necessary, but other users may book a vehicle before fixes can be made. If you are hurt because of a defective vehicle, the e-scooter sharing company insurance policy kicks in. Plus, it may also be possible to pursue the manufacturer for design or manufacturing defects.
 Insurance When You Cause an Accident: When the situation is reversed and the user is to blame, the e-scooter insurance policy also provides protection from liability. The arrangement is similar to when you cause a car crash, and an injured victim pursues a claim with your insurance company. You are not on the hook for the victim's losses.
Consult with an Oakland E-Scooter Accident Attorney About Your Rights 
It is helpful to understand how insurance works, but you can count on Venardi Zurada, LLP for assistance if you were hurt in an e-scooter collision. To learn more about our services, please contact our offices in Oakland or Walnut Creek, CA to set up a no-cost case assessment.
Source:
statista.com/outlook/mmo/shared-mobility/shared-rides/e-scooter-sharing/worldwide#:~:text=Revenue%20in%20the%20E%2DScooter,to%20hit%201.7%25%20by%202027.