California Laws Cover Burn Injuries from E-Scooters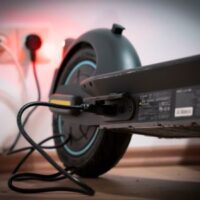 When you think about injuries in e-scooter accidents, you might imagine getting struck by a motorized vehicle or being "doored" by someone as you ride along lanes of parked cars. You probably do not expect that burn injuries are a risk, but incidents of explosions, fires, and other accidents are becoming common. According to a National Fire Protection Association (NFPA) investigation on just one major city, there have been reports of 130 fires related to lithium-ion batteries that power certain e-scooter models. In 2022, five people lost their lives and dozens of victims suffered burn injuries from these devices.
Burns can range from a first-degree injury that is like a sunburn to third degree burns that penetrate multiple layers of skin, and possibly the nerves, organs, and muscles underneath. If you suffered burns from an e-scooter, it is a comfort to know that you have legal remedies as a victim. An Oakland e-scooter accident lawyer can explain them in detail, and some information on the causes of exploding lithium-ion batteries is helpful.
 How E-Scooters Cause Burn Injuries: Lithium-ion batteries power many other devices in addition to e-scooters, including cell phones, laptop computers, e-cigarettes, and some power tools. When the battery is damaged or not properly charged, it can overheat and start a fire. In extreme cases, the unit may even explode into flames. Unfortunately, when they do burn, the fire is very hot. Plus, the chemical makeup of the battery often leads to challenges when firefighters attempt to extinguish the flames.
The most common causes of burn injuries from flaming or exploding e-scooter batteries include:
Defective charging equipment;
Debris, dust, or grime that disrupts the connection between the charger and battery;
Overloaded electrical components within the charging unit; and,
A faulty battery, including both brand new batteries and those that are damaged because of wear and tear. 
Remedies Against E-Scooter Sharing Services: If you own an e-scooter, make sure to follow all manufacturer's instructions on charging, replacing, and fixing the lithium-ion battery. However, many of the fires and explosions are linked to Lime, Spin, and Bird e-scooter sharing services. These companies are responsible for maintenance, inspections, and repairs, so they can be liable for:
Failing to replace lithium-ion batteries when they reach their end of lifecycle;
Not reviewing all e-scooters in their fleets to check for damage to batteries and charging stations;
Taking unsafe, e-scooters off the streets for repairs when their battery is defective; and,
Failure to take action regarding recalls and other safety warnings about lithium-ion batteries.
If you suffered burn injuries because of negligence by the e-scooter sharing company, you may qualify to recover medical costs, pain and suffering, and other losses.
 An Oakland E-Scooter Accident Attorney Will Support You with Legal Remedies
To learn more about your rights after suffering burns from an exploding lithium-ion battery, please contact Venardi Zurada, LLP. We can schedule a free consultation at our offices in Oakland or Walnut Creek, CA. After learning more about your situation, an e-scooter accident lawyer can advise you on what to expect with the legal process.
Source:
nfpa.org/News-and-Research/Publications-and-media/Blogs-Landing-Page/NFPA-Today/Blog-Posts/2022/10/20/Electrical-Safety-Tips-for-Users-of-E-Bikes-and-E-Scooters