Overcoming Challenges with Whiplash Claims in California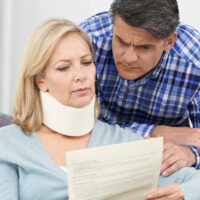 With many injury-causing accidents in California, the trauma to the victim is visible or otherwise obvious. You know that you suffered cuts or bruises, and you can probably tell if you sustained broken bones. Other injuries may not be so immediately noticeable, and whiplash is one of the most common. The National Institutes of Health (NIH) describes whiplash as trauma to the neck that occurs because of sudden extension and flexion – i.e., the back and forth motion of the head and neck due to a violent impact. Also called a neck sprain or strain, whiplash is considered a soft tissue injury because it affects muscles, tendons, and ligaments.
You may be entitled to compensation if you suffered whiplash in an accident that was not your fault, but there can be challenges with proof. It is necessary to show the nature and extent of your injuries, so you need a solid strategy to overcome the lack of visibility. You can rely on an Oakland personal injury attorney for assistance, and it is helpful to review some background about whiplash injuries in accidents.
Complications with Whiplash Claims: As a victim who suffered whiplash in an accident, you certainly experience pain and stiffness. The injuries mainly affect your neck, shoulders, and spine, but there can also be tingling and pain in the hands and arms.
If you put yourself in the position of a juror in an accident case, you can probably understand the key challenges. The jury cannot see your injuries; these individuals are only able to hear your testimony about the discomfort. It is also difficult to convey how whiplash affects your life in terms of memory problems, concentration, disruptions with sleep. Associated challenges with whiplash claims include:
You may not experience the symptoms of whiplash until several hours or even days after an accident.
If you did not feel the pain at the time of the incident, you probably did not seek proper medical care right away.
Whiplash can occur even with a slow-speed fender bender auto crash or minor slip and fall.
There could be zero visible damage to a vehicle, making the jury question how any occupant could have been injured.
Strategies to Ensure Fair Compensation: Because of the challenges with proving whiplash injuries and your losses, you must employ tactics for overcoming doubts. Between you and your attorney, there are ways to convince a jury:
Get proper medical care after ANY accident, even when you do not believe you were hurt badly.
Presenting results of CT scans, MRIs, and other imaging tests is critical because they serve as visible evidence of whiplash.
Testimony from friends, family, and co-workers is useful for proving your physical limitations due to whiplash.
 Discuss Your Whiplash Claim with an Oakland Personal Injury Lawyer 
Our team at Venardi Zurada, LLP is prepared to overcome challenges with claims for soft tissue injuries like whiplash, so please contact our firm today. We can schedule a free consultation at our offices in Oakland or Walnut Creek, CA to provide details.
Source:
ninds.nih.gov/health-information/disorders/whiplash