What To Do About Suspected Abuse Of A Disabled Adult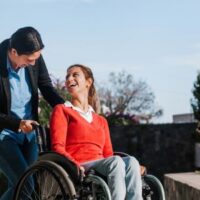 At times, families have no other choice but to place a disabled loved one into a California assisted living facility when they cannot provide the appropriate level of care in the at-home setting. Such a scenario is a departure from what many people view as the typical nursing home environment, since the resident could be much younger than others in the community. Unfortunately, statistics from the National Center on Elder Abuse (NCEA) indicate that there is still a risk of neglect and abuse regardless of age. Around 30 percent of adults with disabilities reported physical, verbal, and other mistreatment by a caretaker.
Nursing home abuse and neglect are intolerable under any circumstances, but there are a few points family members need to know when the resident is a disabled adult. One critical issue is the duty these facilities owe to those in their care, so that you have some guidance on what to do about concerns. You can trust the details to an Oakland neglect and abuse lawyer, but an overview may also be helpful. 
Nursing Home Duties and Responsibilities 
Disabled adults have different needs than the elderly, but they are still entitled to protection under California law. Assisted living facilities are legally obligated to:
Comply with all federal and state statutes and administrative regulations that apply to individuals residing in the community setting;
Ensure that the facility is adequately staffed to meet the needs of residents, including disabled adults;
Checking the licensing and credentials of nursing and medical staff;
Establishing training programs and supervision protocols;
Respond promptly when the resident exhibits signs of abuse or neglect; and
Thoroughly vet and investigate all employees, including comprehensive background checks. 
In addition, keep in mind that there may be additional duties and requirements listed in the contract for care. These obligations may not be imposed by statute or regulation, but a violation could lead to a claim for breach of contract. 
What to do if You Suspect Neglect and Abuse of a Disabled Adult 
Your loved one may have relied upon you in the past for support, and your actions in the face of nursing home mistreatment are just as important. Residents with intellectual, cognitive, and developmental disabilities need a voice, so consider the following tips based upon your situation: 
Get the Resident to Safety: When the disabled adult's well-being is an urgent concern, take steps to get him or her to a safe environment immediately.
Seek Proper Medical Attention: If neglect and/or abuse causes injuries, get your loved one appropriate medical care.
Document Everything: From the very moment you have concerns about misconduct, begin writing down your thoughts and gathering information. These details are important, and you want to keep them fresh in your mind.
Contact an Oakland Neglect and Abuse Attorney to Discuss Legal Options 
Assisted living centers must be held accountable for mistreatment of residents, so please contact Venardi Zurada, LLP right away to learn about remedies for disabled adults and their families. We can set up a free case review at our offices in Oakland or Walnut Creek, CA at your convenience.
Resource:
centeronelderabuse.org/docs/ResearchBrief_Disabilities_508web.pdf