Sexual Harassment is a "Damned Dilemma"
The public is now recognizing just how pervasive sexual harassment is in our society as we learn daily of new substantiated accusations against politicians, news personalities, and entertainers. Sexual harassment offends our basic human dignity and has devastating consequences on the victims. Yet, the unlawful behavior of many bosses and co-workers, has often been swept under the rug because of what I call the "Damned Dilemma."
The harassed victim perceives that she or he has three choices, all bad:
Object and report the harassing behavior to the business owner/harasser and then live with a target on her/his back (damned if you do);
Don't report it, or take action, and tolerate the circumstances in fear of retaliation (damned if you don't); or
Quit and suffer financial consequences (damned if you do).
Too often employees either endure the circumstances or just quit which means in both circumstances the perpetrator is left unchecked and is primed to act out on the next victim.
Wondering what to do if you've been sexually harassed? There is a better 4th option.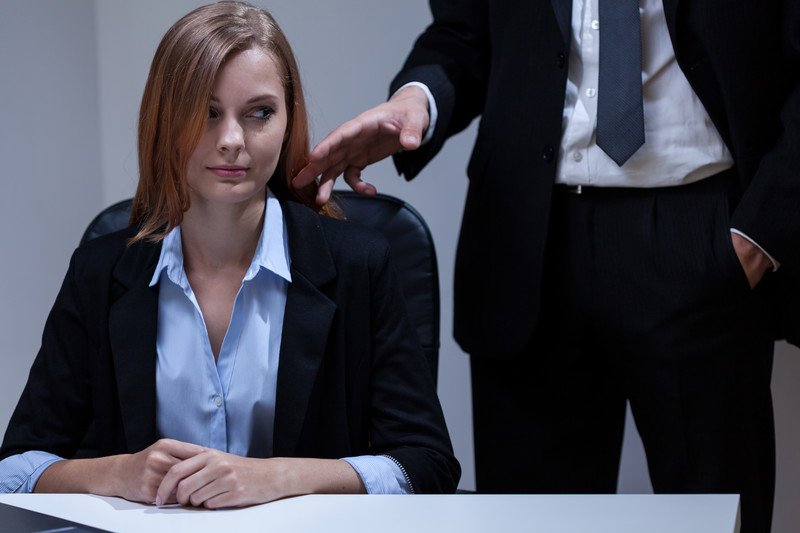 While there is no perfect "solution," there is a better fourth option that requires consultation with a highly skilled attorney. We often help clients that work for large employers and smaller businesses including doctors, dentist, restaurants, law firms, and other small businesses where the owners and managers often believe they can get away with truly appalling conduct including sexual assault, exposing themselves, inappropriate touching or advances, as well as other sexual misconduct and forms of harassment and discrimination.
The empowering solution is to work with us to document the conduct, prepare a complaint to the employer, protect you from retaliatory conduct, and seek just compensation for your harms and losses. This exposes and turns the table on the harasser who now has a choice to stop the unlawful conduct and compensate you for the harm you suffered, or to persist and face even greater liability for their wrongful conduct.
Keeping quiet helps no one, least of all yourself.
We all need to stand up to this behavior because, by standing up for this human right and need for justice, we can punish the perpetrators, protect and compensate the victims, and together prevent what has happened to you from happening to someone else.
---
Get a Free Case Review
If you are an employee in the California who feels their rights have been violated, or you need help negotiating or reviewing your employee contract, please call to speak to us at (935) 937-3900 or submit the form to the right.
When litigation or mediation is involved, and we are able to take your case, there is never any fee or expense to you of any kind until you get paid! That means we pay all litigation costs which you will not be required to pay back, and we only get paid if you get paid.
(c) Photo Credit: Can Stock Photo / Bialasiewicz
You can be confident in relying on our zealous and effective Oakland personal injury lawyers:
We have served Northern California for over 35 years.

Our attorneys have been honored with numerous accolades, including SuperLawyers, AV Rating, and Top 100 Trial Attorney Awards.

In our decades of legal service to the community, we have garnered a substantial reputation. We are respected by opposing counsel, feared by insurance companies, and followed by jurors.

We combine Big Firm experience with boutique office attention and care. Several of our attorneys have experience working for the biggest law firms in the country, including the most prominent maritime defense law firm. Our attorneys rely on that big-firm know-how but prefer the personal touch of a smaller firm, allowing us to provide individualized and attentive representation to each of our clients.

We've been through it, too. Attorney Mark Venardi had to personally deal with a medical malpractice injury he suffered at a time when he was working a blue-collar job on an offshore oil rig; he knows what it's like to be a working man dealing with a personal injury. He built his way up to working for the biggest maritime defense firm in the country, before deciding to focus on helping people like himself who were hurt by negligence and mistreatment from others.

We like to fight for the underdog. Attorney Martin Zurada is an immigrant and the son of immigrants who tirelessly worked his way up through education and experience to attain the American dream. Even though he has served in large, high-level litigation law firms, he prefers helping clients directly, fighting against injustices, and securing victories for the little guy who has been wronged.

We win. We have secured multi-million dollar verdicts and settlements. In our combined tenure, we have recovered tens of millions of dollars for our clients across our broad areas of practice.

We care first and foremost about our clients. We dedicate ourselves to serve each and every client personally, and we make ourselves available to our clients around the clock.

There is no cost to you until we win. If we don't make a recovery for you, we will not collect a fee. And all initial consultations are free of charge.
Dedicated Areas of Practice
We offer a wide range of litigation services for Oakland personal injury and employment law clients. Specifically, our areas of dedicated practice span the following issues:
Employment Law. California employers must assure proper pay to employees and comply with a variety of rules and regulations to prevent discrimination and unfair treatment of employees. We represent victims of wage and hour violations, employment discrimination, workplace harassment, retaliation, wrongful termination, and any other form of California workplace mistreatment. If you believe you were treated inappropriately at work, we can help.
Personal Injury. If you've been injured due to another's negligence, you deserve compensation. That's where we come in. As Oakland personal injury attorneys, we right the wrongs done to our clients. And we do it at our cost during the entire duration of your case. There is never any fee until we win. Give us a call if you have been hurt in a car accident, by a toxic spill or contamination, as a result of medical malpractice, due to abuse or neglect, in a maritime accident, by a vicious animal attack, or any other incident caused by someone else's negligence.
The Sooner You Speak to an Oakland Injury Lawyer, the Stronger Your Chances for Recovery Will Become.
Contact the Oakland injury lawyers at Venardi Zurada today, and let's get started. We are available to talk any time, so whether you call, email or chat online, we'll respond and set up an appointment to meet you. We have several Spanish speakers in the office and welcome the opportunity to cater our services to Oakland's Spanish-speaking population. You pay no fee until we win for you, so you have nothing to lose by contacting our office for a free consultation. The sooner you call, the faster we can start getting results for you. Call 925-937-3900.