4 Reasons E-Scooters Are NOT For Kids: A Warning To California Parents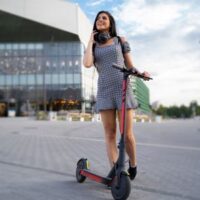 While many Californians are turning to e-scooters as gas prices rise, the industry outlook indicates that there are many other reasons that these vehicles are becoming more popular. According to a comprehensive research report on the compact e-scooter industry, the market size is almost $627 million in 2022 and expected to hit $803 million in the next 10 years. Whether you buy your own or rent via Bird or Lime, the benefits are significant for those who rely on them to get around. There is no need to park, they run on electricity, and these vehicles fold up for easy stowing.2
Though convenient for transportation, e-scooters should not be viewed as just a fun way to get around. They are not necessarily a wise transit option for children, who tend to be in age groups that are most attracted to them. You would never want your child to be injured in an Oakland e-scooter accident, so consider a few reasons these vehicles are NOT for kids. 
It is against the law for younger children. The first and most obvious reason to bar kids from riding e-scooters is that these vehicles are "motorized" for purposes of traffic laws. Therefore, a valid driver's license is required to operate one, and an individual must be at least 16 years old.
E-Scooter sharing services do not allow minors. Bird, Lime, and other e-scooter sharing services go above and beyond California law on operating these vehicles, requiring a person to be at least 18 years old. Still, though these rules prevent your minor child from renting an e-scooter, they also send a message. These companies clearly have reservations about renting to individuals aged 16 and 17 years old, even with a driver's license. 
Teens do not have sufficient traffic experience. There is the small window of 16 to 17 year olds who can legally operate their own e-scooter on California roads, but parents should be mindful of a few points:
All teens are inexperienced at operating a motorized vehicle in traffic, but they are protected by a metal shell when making an error that causes a car accident.
E-scooters cannot be operated on any sidewalk, so a rider cannot steer clear of potential harm by doing so.
E-scooters are designed for a solo rider, so parents cannot ride along as coaches.
For smaller kids, size is an issue. There are no laws covering how private residents use e-scooters on their own property, but keep in mind sizing before allowing your younger children to ride. Your child can still suffer serious injuries, so consider a non-motorized version instead. 
An Oakland E-Scooter Accident Attorney Can Explain Legal Remedies 
E-scooter may not be appropriate for kids, but collisions caused by negligent motorists can lead to serious people of all ages. For more information on your rights, please contact Venardi Zurada, LLP to schedule a free consultation at our offices in Oakland or Walnut Creek, CA. We are happy to explain how the legal process works.
Source:
prnewswire.com/news-releases/compact-e-scooter-market-to-reach-us-806-3-by-2032–comprehensive-research-report-by-fmi-301554936.html