4 Motorcycle Safety Technologies That Protect California Riders from Accidents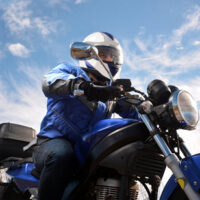 There are numerous "smart" devices that enhance safety in our everyday activities, so it probably comes as no surprise to learn that manufacturers are incorporating technology to make motorcycle riding less hazardous. These efforts are certainly welcome for California riders, as the Insurance Information Institute (III) reveals that motorcyclists are around 27 times more likely to die in a collision as compared to occupants of passenger vehicles. As safety technology for motorcycles improves, experts hope it will significantly shrink this number and save lives.
Despite the availability of these features, you should always keep in mind that no advances in technology will ever be able to prevent crashes. Therefore, it is wise to consult with an Oakland motorcycle accidents lawyer about your rights if you were hurt. You can also read on for some of the top safety features that protect riders. 
Air Bag Motorcycle Clothing: The same technology that protects occupants in a vehicle crash is now being incorporated into the clothing you wear for motorcycling. Smart motorcycle air bag vests, jackets, bodysuits, and other clothing rely on a system of sensors that can detect when a crash is imminent. They deploy almost instantly to provide protection in a key area that is unique to motorcycle accidents: The secondary impact with the ground or other hard surface when a rider is tossed upon impact.

Tire Pressure Monitors: Low tire pressure makes your motorcycle more difficult to handle, increasing the likelihood that you could lose control. It can be difficult to reach for the valve stem, especially when riding, so consider investing in tire pressure monitoring systems (TPMS). The easy-to-install technology alerts you when pressure is low, and many TPMS include features for:
Tracking pressure via mobile app or smartwatch
Providing tire pressure information on demand while riding
Monitoring tire temperature
Detecting leaks
Theft prevention

Adaptive Headlights: Fixed lighting on passenger vehicles is limiting in terms of visibility, and the effect is even worse for the small headlights installed on many motorcycles. The beam typically fails to illuminate road conditions as you are making turns and rounding corners, forcing you to essentially steer into a dark oblivion. Adaptive headlights pivot in the direction you are heading, providing improved visibility.

Auto Shifting: Experience is critical for avoiding motorcycle collisions, but challenges with traditional clutch and shift can make it difficult to practice. Plus, many motorcycle accidents are caused by poor shifting – or inattention to traffic because the rider is too focused on shifting. Automatic transmission is becoming available on more motorcycles as manufacturers attempt to keep up with demand.

Discuss Your Rights with an Alameda County Motorcycle Crash Lawyer 
No motorcycle safety technology will ever lead to zero collisions, but it is reassuring to know that there are features that protect riders and reduce the potential for crashes. You may also be encouraged to learn that you do have options if you were hurt or lost a loved one in a motorcycle accident. For more information on your rights, please contact the Oakland motorcycle accident attorneys at Venardi Zurada, LLP to schedule a complimentary consultation at our offices.
Resource:
iii.org/fact-statistic/facts-statistics-motorcycle-crashes